School Bus Routing with TIMS...
. . . The Transportation Information Management System (TIMS) is a unique collaboration between the UNC Charlotte Urban Institute, The North Carolina Department of Public Instruction (NCDPI) and the Institute for Transportation Research and Education (ITRE) at North Carolina State University. It is an ongoing statewide project that concentrates on maintaining and improving upon efficiency in school bus transportation at the district level. Each district operates standardized, comprehensive computer-assisted school bus routing and scheduling software. By maintaining student, transportation and street network data at the local level, district personnel have access to the most accurate and current data available. TIMS Support Staff at NCSU and UNC Charlotte provide daily software and technical support to individual TIMS data managers across the state. Continued here...
The Service Indicator Report
Optimization tools in TIMS are used to improve the efficiency of transportation services. In addition to the benefit derived from the optimization tools, uniform reporting from TIMS makes possible the production of LEA‐level and statewide data. In this document, data from all LEAs have been collected and summarized. The goal is to give school transportation providers and local policy makers a tool that will help them assess the quality of the services they provide.
New TIMS Extract Method - February 2021
Due to North Carolina switching to the Core Contacts section in PowerSchool , the TIMS Extract must now be acquired from the Data Export Manager in PowerSchool instead of the traditional NCDPI Reports Section.
Below is the Announcement from PowerSchool Support from Friday, January 22, 2021. It contains instructions for Local PowerSchool Coordinators to complete.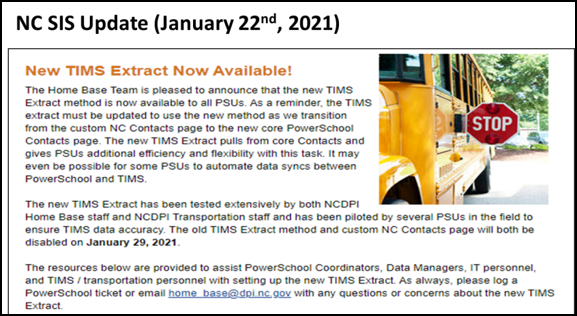 Links for PowerSchool Coordinators:
Links for TIMS Operators:
Preparing Plan-B Routes in a COVID19 Environment
TIMS Webinar from June 24, 2020 covering TIMS Data Preparation for potential limited capacity Plan B School Bus Routes. (download the Webinar or PDF Presentation)
ITRE-TIMS Webinar: Plan B Route Preparation
The Webinar Covers the Following Topics
Using a Single Database for Each Group of AB Students
Managing A and B Databases

Importing Special Plan B Codes to Identify AB Bus Riders

EMU Process - Batch Fill User Field
EMU Process - Deassigning Students from A and B Databases
EMU Process - Deassigning Empty Stops from A and B Databases

Evaluating Plan B Routing Requirements

Ridership Counts by Schools and Neighborhoods
Number of Bus Runs Required (Loads)
Improving Bus Runs

Resequencing Stops, Moving Stops Between Runs, Creating More Runs
Designing Shorter Runs to Improve Route Pairing

Analyzing School Supervision Time Required Before/After Bells
Coordinate A and B Database Info with GPS Vendors
TDTIMS
TDTIMS for 2020-21 School Year is Delayed until Further Notice. There has been discussion of a possible springtime data collection should LEAs return to more normal operations statewide.
The information submitted in the Annual TDTIMS Report includes data that are used in the transportation funding formula. Specifically students transported must be assigned to stops, runs and routes in order to calculate site characteristics such as the average distance to school for transported students.
If computerized TIMS Routes do not accurately reflect current bus routing operations, then your transportation budget ratings will be incorrect. If TIMS data is incomplete or not updated, state funding could be negatively impacted.
View the Webinar presented by Kevin Hart on October 9, 2019. Covers what TDTIMS is and how to process your data for submission.... click here to watch & listen. Download powerpoint here
Your TDTIMS Information is also used to compare your district to the rest of the state. The Annual Service Indicators Report highlights:
- Average Student Ride Time
- Average of the Longest 5% of Student Ride Times
- Average Distance to School for Students
- Student to Stop Distance
- Earliest AM Pickup and Latest PM Drop-off
- Range of School Start Times
- Average Number of Runs per Route

It is the most comprehensive report of public school transportation services in the nation.
TIMS Reporting TIP!
Have you ever wanted to display the phone number in your reports with dashes separating the numbers? If so, try inserting one of the following codes in the phone number field of your report.
For 999-999-9999 formatting use:
Left(allt(home_phone),3)+"-"+substr(allt(home_phone),4,3)+"-"+right(allt(home_phone),4)
For (999)999-9999 formatting use:
"("+Left(allt(home_phone),3)+")"+substr(allt(home_phone),4,3)+"-"+right(allt(home_phone),4)
Safeguarding school buses: Rail crossings critical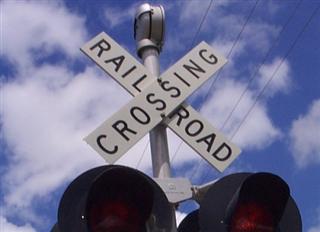 Modern school buses are some of the safest vehicles on the road, but even these sturdy conveyances can be at risk in a collision with a train. Coordination between two N.C. state agencies helps give more information to school bus drivers across the state to help prevent this kind of accident.
Nearly 13,000 public school buses operate in N.C. counties that have railroad tracks, and more than 50 percent of these buses cross a railroad track at least once a day. For buses that cross railroads, the average number of crossings is nearly six a day. In dense urban districts with lots of tracks, the average number of daily crossings for buses can exceed a dozen. Adding all those crossings statewide totals nearly 45,000 times each school day, and those buses carry more than 600,000 students, with an average of 14 students on each bus at the time of crossing. Article continues here
** Important RR crossing Webinar conducted on 8/18/2016 - click here to access
download the webinar powerpoint presentation
Articles of Interest
NC Case Studies on Routing Efficiencies
Relevant Links & Documents
Technical Training and Support provided by: