Safety Lessons
SCHOOL BUS SAFETY
Getting To and From School Safely
Numerous studies (http://www.trb.org/Main/Public/Blurbs/161028.aspx) show that getting to and from school by school bus is the safest way to do so – bar none. The most dangerous part of this journey is getting to and from the school bus stop and getting on and off the bus. Teachers, principals, parents and school bus drivers have a responsibility to make sure that students know proper behavior and rules during this time. The following resources can help schools comply with the state requirement to provide school bus safety training at least twice per school year, including within the first five days of school.
NORTH CAROLINA CROSSING SIGNAL
Effective January 1, 2016 North Carolina school districts will be using a standard crossing signal to help protect students when they need to cross the street to board the bus or after exiting the bus. The school bus driver will first hold palm out indicating that students should WAIT before stepping into the roadway. After the driver has checked for safety, he or she will then give students a "thumbs up" indicating that the students should then check for traffic and then cross the street. The driver will indicate the direction to walk by pointing with his or her index finger.
Click HERE to see the school bus driver's process: (Morning - Afternoon)
Click HERE to see the student's crossing process: (Morning - Afternoon)
Click HERE to see the student's crossing process - Spanish Version: (Morning - Afternoon)
To order the student crossing process instructions sheets, contact DPI Publication Sales.
RESOURCES FOR SCHOOL BUS DRIVERS AND TEACHERS
Suggested Back to School Training for North Carolina School Bus Drivers
HERE is a PowerPoint presentation that LEA transportation directors can use for back-to-school driver meetings
HERE is a copy of the PowerPoint slides (in pdf form) with suggested presentation notes
HERE is a PowerPoint presentation the LEAs can use to explain to teachers/administrators and other school/transportation employees what students should be taught related to school bus safety training
SCHOOL BUS SAFETY TRAINING VIDEOS
North Carolina School Bus Safety Training Videos - Produced by Winston-Salem / Forsyth County Schools:
SCHOOL BUS SAFETY WEB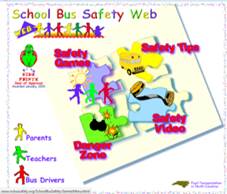 School Bus Safety Resources for Parents, Teachers and Bus Drivers
This long-standing safety page provides tips for parents in teaching their children about walking to the bus stop, waiting for the bus and how to behave on the bus. There are activities to help teachers share these concepts with students. There are also resources for school bus drivers.
http://www.ncbussafety.org/NCBusSafety.html
Let's Go NC! Pedestrian and Bicycle Safety Curriculum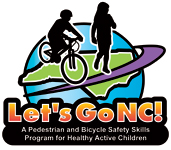 The Division of Bicycle and Pedestrian Transportation worked with NCSU's, Institute of Transportation Research and Education to develop "Let's Go NC!, A Pedestrian and Bicycle Safety Skills Program for Healthy, Active Children", designed to aid instructors in teaching and encouraging safe pedestrian and bicycle behaviors. Through this curriculum children develop skills that will promote healthy transportation choices.

SCHOOL BUS SAFETY
School Bus Safety is one of the components of the pedestrian safety curriculum. A series of 5 lessons teaches basic pedestrian safety concepts at different elementary grade levels. Lesson plans, interactive skill-building activities and a video are provided.
Lesson Plans for Pedestrian Safety – Including School Bus Safety
DOWNLOAD LESSON PLANS & VIDEOS
Lessons are designed to be taught in order within each teaching level. Concepts learned in the first three lessons provide a foundation for the following lessons. All pedestrian lessons include a discussion and demonstration of core concepts, a skill-building activity and a video to accompany the lesson review
Video for K-5 (4:30 Minutes)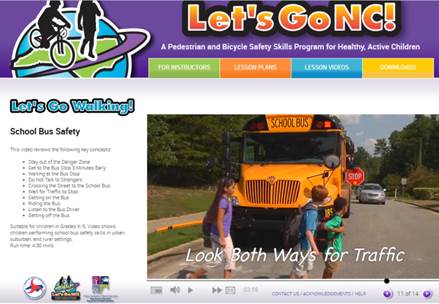 .