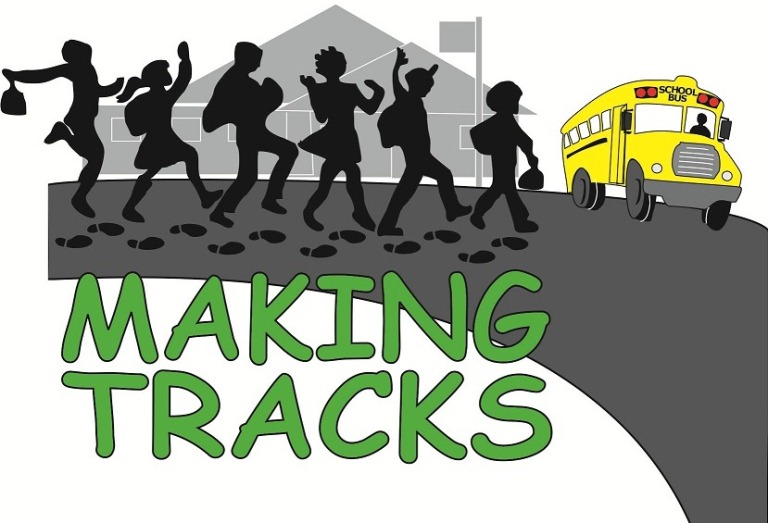 Making Tracks Video Contest
Students will create videos that highlight areas of safety that concern them in their own communities daily. They may use any form of song, dance, poetry, art, rap, drama, or other forms of expression to make the video more emphatic and interesting. This video contest will challenge participating students or teams of students to describe and document the obstacles they face every day on their way to the bus stop or school and to highlight good practices to follow as pedestrians.
Students may choose to create their own video with or without teammates. The videos will be used to inform students, teachers, administrators, parents, bus drivers, motorists, and community leaders as well as other decision makers about the dangers involved in getting students to and from school daily. Student videos will be judged against set criteria by a panel of experts from the advisory committee as well as online voting by fellow students. Videos will be showcased at the 2013 North Carolina State Fair and posted on the NC-DPI website.
Team members of the three (3) winning videos will be invited to participate in the "Making Tracks" exhibit at the 2013 North Carolina State Fair. Have fun and help to educate others about pedestrian safety on the way to and from school at the same time.
CONTEST RULES AND REGULATIONS

Making Tracks Video Contest Registration / RELEASE FORM


VOTE! *(May 6-May 12, 2013)
PEDESTRIAN SAFETY TEAM

QUESTIONS? CONTACT DPI TRANSPORTATION SERVICES 919.807.3570 or email kevin.harrison@dpi.nc.gov
* Note: A facebook account is required for uploading and/or voting
---
Sponsored by: