2016 DPI Awards Presented at NCPTA Conference
Inspectors – on an individual and team basis – were recognized at the NCPTA conference in Asheville this year along with the $2500 SESPTC scholarship presented to a graduating senior from Catawba County.
2016 Best School Bus Inspector Contest / 2016 State wide Inspection banners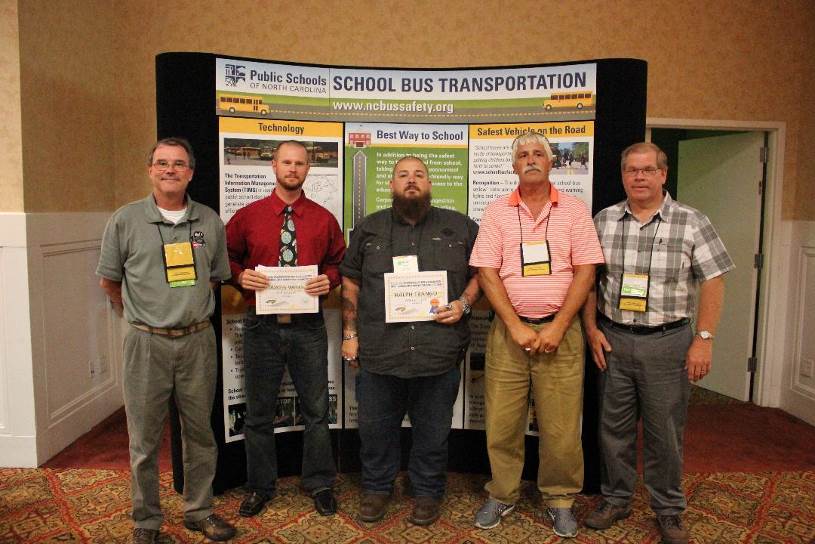 Wake County is the employer of the NCPTA Best School Bus Inspector contest.  Ralph Trango (pictured above in center), in his 10th competition, took the top honor & $500.00 (his second state title) at the NCPTA conference held in Asheville.  He and eleven other finalists inspected three different buses that were specially "set up" by DPI consultants Robert Taylor, Keith Whitley, and Randy Henson. Each bus had 10 defects to be identified in order to score points. The contestants also had to take a 50 question written test in order to qualify for the finals. Ralph also earns a free trip to NAPT in Kansas City during the month of November to challenge the best bus inspectors in the USA for the title of "America's Best".  Ralph is no stranger to the national competition and has placed in all spots on the national level except 1st place. Ralph says he intends to get the "monkey off his back" this fall.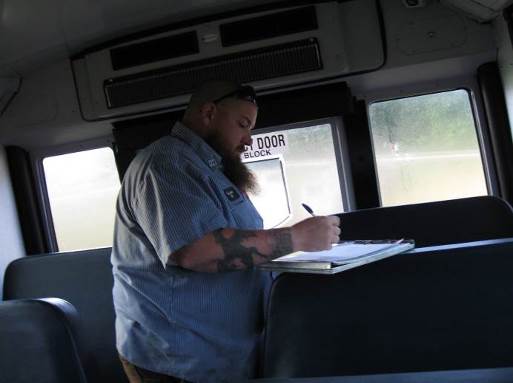 Ralph Trango
2nd place finisher and winner of $300.00 was last year's top winner, Dustin Wells from Pitt County. Dustin will also be traveling courtesy of NCPTA to Kansas City to enter the "America's Best Bus Technician" competition. Dustin has previously won the National bus inspection contest and desires to be the first national winner of both competitions.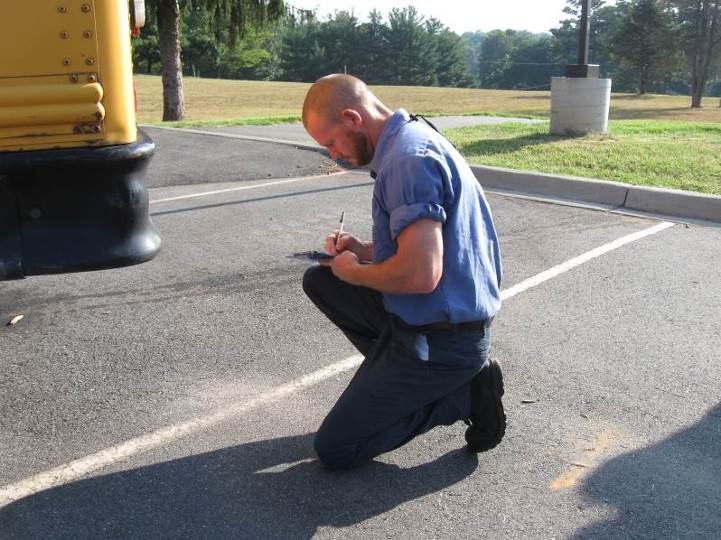 Dustin Wells
3rd place was only one point behind 2nd and goes to Craig Barker of Wilkes County. Craig in his second NCPTA competition placed very strong thanks in part to a strong written test score. Craig won 200.00 for his efforts. Craig also mentioned "this competition causes me to study the 30 day manual deeper and become better at my day-to-day inspection duties.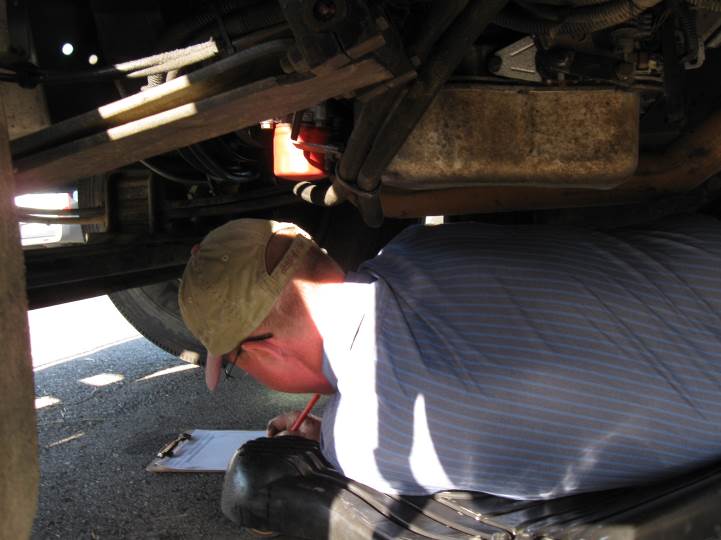 Craig Barker
Inspectors in action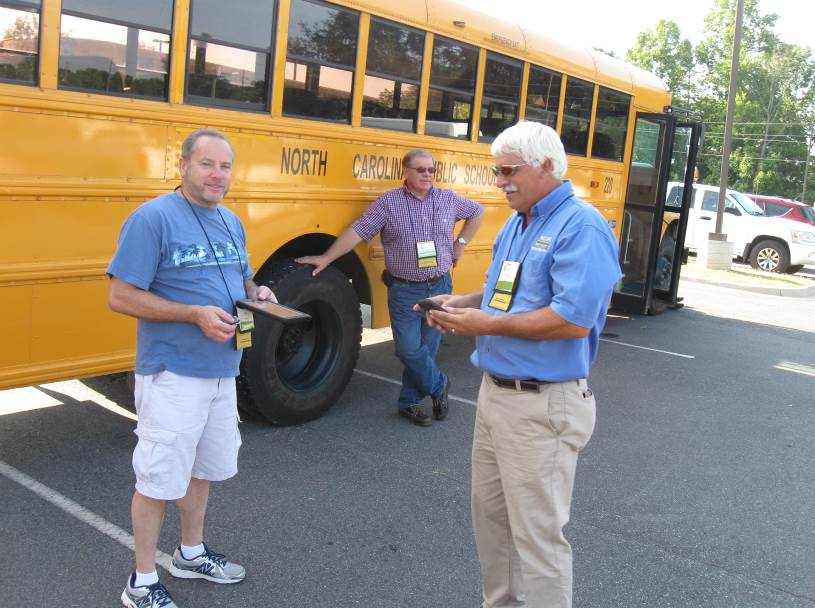 DPI Staffers Bob Peters, Keith Whitley and Robert Taylor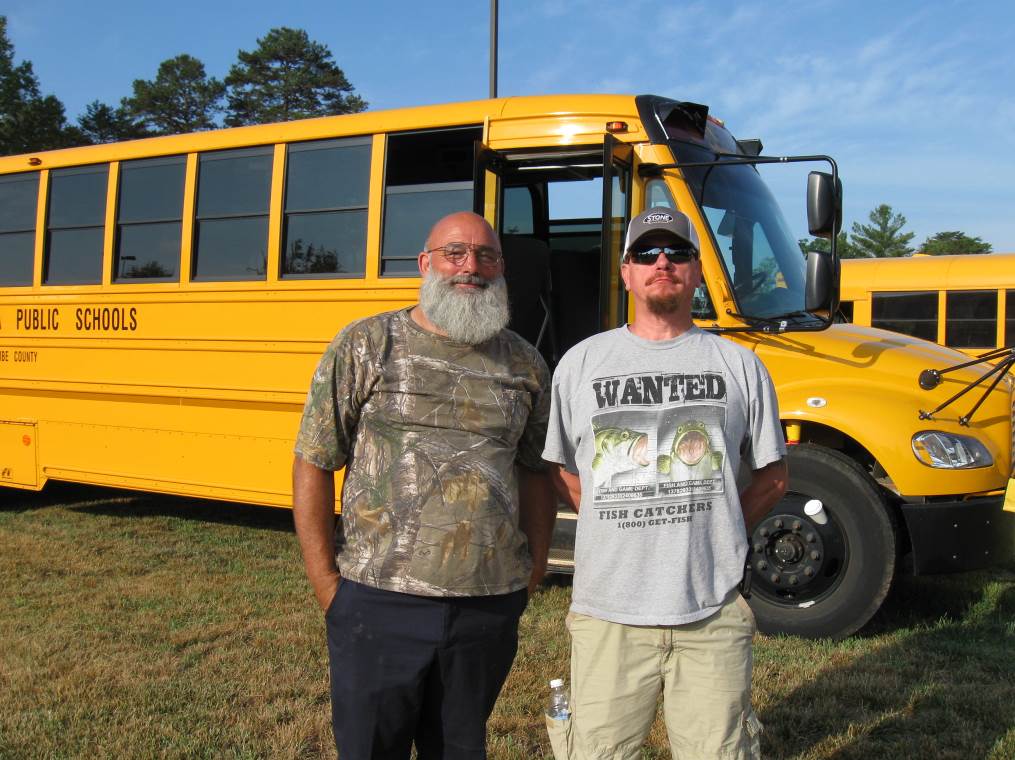 Former National Champs Danny Reed and Tim Speer were on hand to support their peers.
The rest of the finalist by placement included:

| | | |
| --- | --- | --- |
| LEA | Last Name | First Name |
| Wake | Trango | Ralph |
| Pitt | Wells | Dustin |
| Wilkes | Barker | Craig |
| Brunswick | Calander | Rick |
| Johnston | Parker | Dale |
| Durham | Newton | Lennie |
| Jones | Melendez | PJ |
| Wake | Moriatry | Michael |
| Robeson | Locklear | JR |
| Wake | Jones | Bobby |
| Lenoir | Daughety | Michael |
| Gates | Cox | Carl |
NCPTA & DPI appreciates the participation of the 27 inspectors who attempted the written test and hopes that these and many more will be back to try again next year at NCPTA conference to be held at the coast.
DPI annual inspection banner winners
 The best LEA transportation department inspection banners were handed out at the NCPTA conference at Asheville on June 23rd at the award banquet. The banners are awarded to the county with the fewest defects discovered over the 10% of buses inspected by DPI consultants. Recipients of the banners for 2015-2016 are Polk County/Graham County TIE (Western), Richmond County (Central) and Currituck County (Eastern). Congratulation goes out to all the employees in these counties and the extra effort it take to be the best!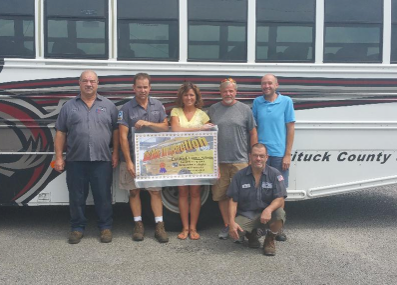 Currituck County transportation director Amanda Sweet and crew.

Richmond County transportation director Corey Davis and crew

Graham County transportation director Chris McClung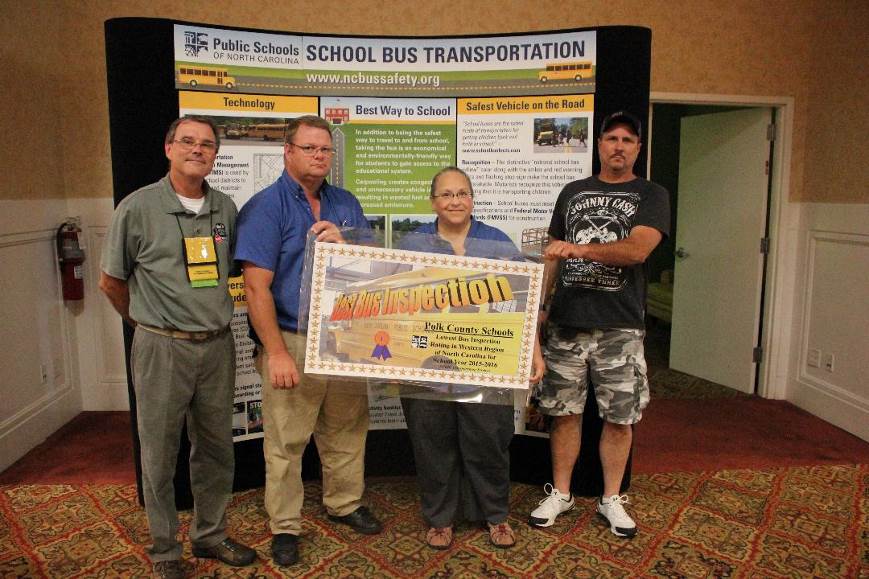 Polk County transportation director Lambert Ridings and crew
BUster bynum SESPTC scholarship winner
 Each year the Southeastern States Pupil Transportation Conference (SESPTC) sponsors a scholarship for a deserving graduating high school senior whose mother or father works in school transportation.  This year Derek Graham presented the $2500 scholarship to Kelsey Elizabeth Hicks who graduated from Newton-Conover High School. Her father, Kelly Hicks, is a fuel truck driver / mechanic I for Catawba County Schools.  Catawba County Transportation Ivan Albritton received the scholarship on her behalf. Kelsey plans to continue her education at the Cabarrus College of Health Sciences.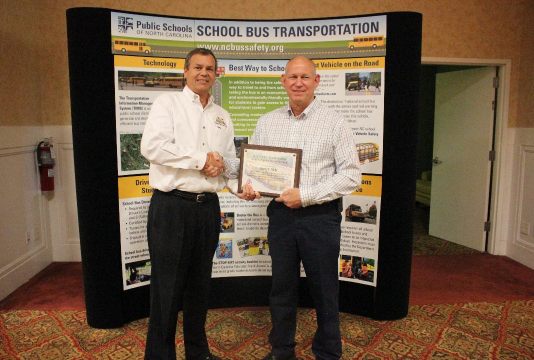 Derek Graham and Ivan Albritton (accepts award on behalf of Kelsey Hicks)