Rocky Mount Preparatory School
Rocky Mount Preparatory School is a public charter school located in Rocky Mount, NC. They have an enrollment of 1200 + students grades K – 12. The school serves students from Nash, Edgecombe, Halifax and Wilson counties. Administration states that they now have a 300 + student waiting list of students who wish to enroll into the school. The school is located directly behind North Carolina Wesleyan College Rocky Mount, NC. They operate a fleet of 26 buses.
| | |
| --- | --- |
| | Travis Williams is the Transportation Director for the School. Travis started out as a School Bus Driver for the School 3 years ago and is now in charge of the fleet of 26 buses, driver employment, training, discipline and routing. |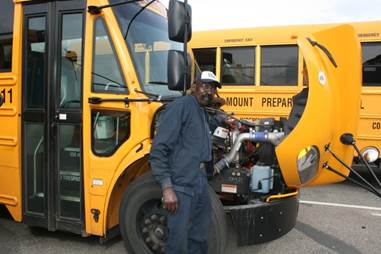 Herbert Johnson is the Bus Mechanic for the school. Mr. Johnson is in charge of ensuring that all 26 School Buses are in full running conditions for the various bus routes. Mr. Johnson stated to me that he ensure that each bus is in good running condition according to the NC School Bus Fleet procedures from top to bottom and bumper to bumper. Mr. Johnson states that he comes in physical contact with each and every bus on a daily basis and knows if there is any damage to any bus on a day to day basis. Mr. Johnson states "a Good mechanic will know his buses like a father knows his kids."
| | |
| --- | --- |
| | |
| Mr. Herbert Johnson is shown here replacing a passenger warning light lens. | Karen Graham, bus driver, shown here has just completed her School Bus Driver Renewal. |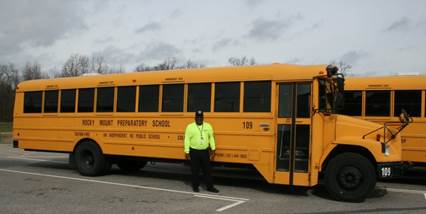 Bernard Norman (DEPS) performing School Bus Training at Rocky Mount Preparatory School. "They have a very clean and well maintain fleet here at the school." Since many of the charter schools offer bus routes, NCDMV School Bus and Traffic Safety specialist offer training and certification to charter school bus drivers.
| | |
| --- | --- |
| | At Rocky Preparatory School over half of their buses can be used as either a School Bus or Activity Bus as simple as changing the Bus Sign. |
NCDPI field consultants begin offering "courtesy" inspections of the NC Charter school bus fleets last year. Much of last summer was spent visiting over 35 charter schools and introducing many of them to the "30 day" manual and "PM" processes. Derek Graham is working with the Office of Charter Schools to help steer transportation safety and efficiency issues. Currently Charter school buses are mostly maintained by contract maintenance including some retired bus garage personnel lending an experienced hand. NCDPI Transportation Services is consulting with Charter school fleets to offer advice for best practices. Charter schools are required by law to ensure health and safety related needs of students are being met. According to Derek Graham, "charter schools receive funds from the appropriation for school transportation, they are not required to provide transportation (just to have a plan such that transportation is not a barrier)". The courtesy inspections by NCDPI field consultants will be expanded this season as new schools and bus fleets are brought online.