A Day in the Life of a Local
Transportation Director
By Christina Boodée, NCDPI Communications
On August 26th and 27th, four staff members from the Transportation Section left the comfort of their sunny seventh floor offices in the Education Building and ventured out into different counties scattered across North Carolina. They truly walked a mile in someone else's shoes as they spent one of the first days of the traditional school year shadowing a school district's director of transportation in Buncombe, New Hanover, Pitt, and Cumberland counties.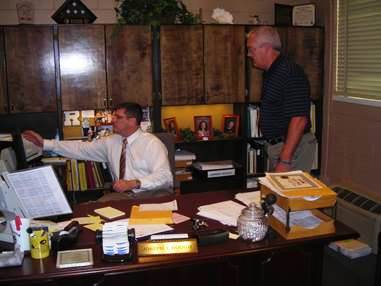 DPI Transportation Consultant Craig Warren (pictured left) looks on as Buncombe County Schools transportation director Joe Hough reviews output from a stop arm violation camera.
Derek Graham, DPI section chief of transportation, said he got the idea from his counterpart in Florida. "I thought shadowing transportation directors of school districts would serve as a reality check," Graham said, explaining that he and his office staff rarely have a chance to visit school districts for an entire day. "Everyone was glad for this opportunity to go out and learn."
Graham visited New Hanover County where he shadowed Ken Nance. Graham watched Nance as he interacted with parents, traffic coordinators and school administration. "Our job is different from most other logistical jobs," Graham said. "We're moving kids, not freight." Graham noted that he and his staff deal with translating funds, policy and law between the legislation and districts while the districts deal with customers like drivers, parents and students. "Their customers have immediate needs, so it was good to see the positive relationships between the local department and the community," said Graham.
Steve Beachum, transportation consultant, viewed this experience as an opportunity to enhance the way he works. "I've been around long enough to know that the more you interact with people, the better you can serve them," Beachum said. Beachum, who traveled to Pitt County, was impressed by Director Joey Weathington's use of technology in his daily duties. For instance, Weathington used tools like Google Maps to virtually assess school bus stops and their conditions.
In Cumberland County, however, computer consultant Kevin Harrison found that Executive Director Al Miller preferred a more hands-on, outdoorsy approach as the duo spent many hours in the parking lots at various schools observing and helping to direct traffic flow. "Going out and meeting people means that I can share ideas with others," Harrison said. "But I wish I had known to bring sunscreen with me!"
On the western side of the state, transportation consultant Craig Warren shadowed Joseph Hough in Buncombe County. Among the many duties Hough performed that day, Warren thought the most interesting was the press conference he held to inform the public about the implementation of cameras on school bus stop arms. "There are about 100 stop arm violations a day in Buncombe County alone," Warren said. "The more cameras we can put on school buses, the better the chances are of catching the violators." The press conference also served as a live demonstration of how the cameras work, for both the media and highway patrol officers.
No matter the county, the four staff members enjoyed spending a day in the life of the people they serve. "We share the same ultimate goal: getting kids back and forth from school safely," Graham said. Through this experience, staff from state and local levels learned from one another and Graham hopes to maintain this learning process by shadowing local transportation directors again from time to time.

Pictures from Steve Beachum:

Derek Graham (above right) looks on as New Hanover County Schools transportation director Ken Nance discusses a new student book bag tag. The tags contain student transportation information for elementary school students to help ensure they get on the right bus. Sunset Park Elementary School principal Jakki Jethro (above, second from right) and assistant principal Jill Robertson offered their suggestions for implementation.

Steve Beachum, (above) in Pitt County, looks on as technicians diagnose an issue with the GPS system.
Joe Hough is interviewed for a TV news story about the stop arm camera systems in Buncombe County
Craig Warren gets a tour of the parts room at the Buncombe County Schools transportation facility.