Martin County Transportation Department
The Martin County School Bus Garage is located in Williamston, NC. This garage is operated by a Transportation Director, TIMS Coordinator, Parts Manager/Cost Clerk, Mechanic I & 3 Mechanic II. Martin County Public Schools operates 54 Yellow School Buses and 15 Activity Buses. Martin County School Bus garage serves 11 Schools.
| | |
| --- | --- |
| | |
| Gary Speller 21 years of service (Transportation Director) seen here speaking in front of his drivers at the 2012 Martin County School Bus Drivers Banquet. Gary is also the Maintenance Supervisor for the Martin County School System. Martin County School Transportation Motto is "We Deliver the Future". | Cynthia Mooring 25 years of service (TIMS Coordinator Manager / Cost Clerk) takes a few moments out of her spare time to pose for a rare picture moment. Cynthia helps keep the wheels turning at Martin County Schools by keeping up the daily routes changes and drivers as well as everything else that rolls her way. |
| | |
| --- | --- |
| | |
| Hank Edwards 3 Years of service (Cost Clerk / Parts Manager) Hank loves to cook and firmly believe that if you feed them they will be happy. Hank keeps up with parts and equipment at the garage. Hank is seen here cooking a pig for the annual Bus Driver's Appreciation Banquet. | John Holley 8 years of service (Mechanic II) pictured on left informs Hank Edwards what parts are needed to complete his service on this School Bus. |
| | |
| --- | --- |
| | |
| Floyd Bazemore (Mechanic I / Fuel Truck) pictured below getting ready to fuel the wreaker. | Travis Roberson 1 Year of service. (Mechanic II).Travis is performing a service job on the School Bus. |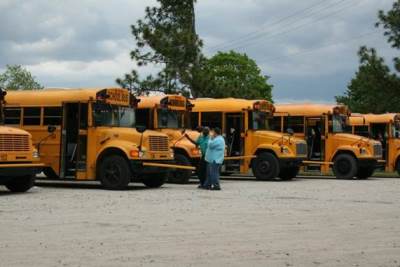 Top picture shows some of the drivers performing a Pre – Trip Inspection of their bus at Riverside High School.
Bottom picture shows some of the 15 Martin County Schools Activity Buses.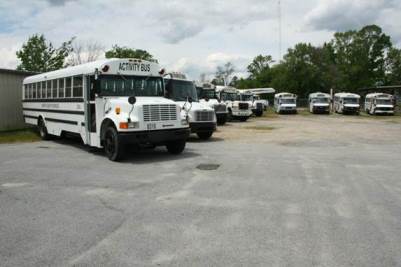 | | |
| --- | --- |
| | |
| Keith Wiggins 9 years of service (Mechanic II) is shown here working from his service truck. | Bernard Norman (DEPS). Bernard has been training School Bus Drivers in Martin County for 3 years he also train drivers in Washington, Tyrrell and Dare counties. |