In 2007 the North Carolina Legislature enacted HB 1912 – "School Bus Retrofits in Nonattainment Areas" (SL 2007-465). This bill was a pilot program to provide $2.5 million in funding for the purchase of pollution control devices that reduce engine and tailpipe emissions from existing route buses. This pilot project resulted in the retrofit of 56 buses with Diesel Particulate Filters (DPFs), and the early replacement of 23 additional buses.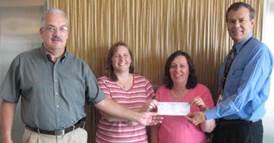 To close out this project, Craig Warren (above Left) and Derek Graham (above Right) receive a check from DENR representatives Heather Hildebrandt and Anne Galamb for $1.8 million to replace 23 school buses being replaced with newer, cleaner models.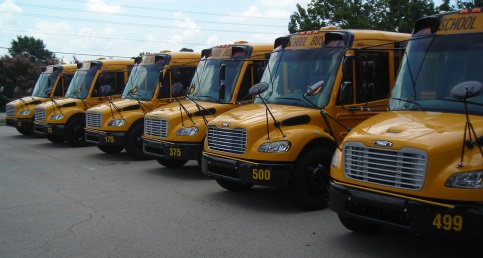 "Pollution from trucks, buses, and other diesel vehicles poses a significant public health threat to North Carolinians, particularly our children. Particle pollution from diesel engines seriously interfere with the growth and work of the lungs and is linked to a wide range of illnesses including diabetes, stroke, heart disease, lung cancer and asthma attacks. Children, whose immune systems are still developing, are especially at risk. Researchers estimate that diesel pollution causes more than 300 emergency room visits for children annually. And while many people assume that being inside a car or bus offers some protection from exhaust, pollution levels in vehicles can be as much as eight times higher than in the air outdoors, especially in congested traffic." North Carolina Clean Diesel Campaign
LEAs eligible to participate were those in areas designated as ozone/particulate matter (PM) maintenance or non-attainment zones. Two LEAs opted to utilize these funds for the purchase of passive DPF retrofits. Guilford County Schools retrofitted 30 buses and Franklin County Schools retrofitted 26 buses. These retrofits cost a total of $416,454 and reduced tailpipe PM emissions for those buses by approximately 85%.
To fully utilize the remaining funds in this pilot program, DPI authorized the replacement of 23 school buses. The new buses are governed by the 2010 Diesel Emissions Standard which is a reduction of around 90% from permissible levels in the 2004 standard. These new engines also significantly reduce NOx emissions.
DENR recommended that the retrofit program not be expanded statewide as additional emissions control devices were not as cost effective as earlier replacement of buses given the emissions reductions achieved by replacement of an old bus with a bus meeting the 2010 standard. The full DENR report can be viewed HERE.
The following counties received replacement buses:
| | |
| --- | --- |
| Cabarrus | 6 |
| Davidson | 4 |
| Durham | 2 |
| Forsyth | 3 |
| Franklin | 2 |
| Johnston | 1 |
| Nash | 1 |
| Orange | 1 |
| Union | 2 |
| Wake | 1 |
A big thank you to all those involved from DENR and the LEAs for the effort given to improve the quality of student transportation, and the health of those transported.