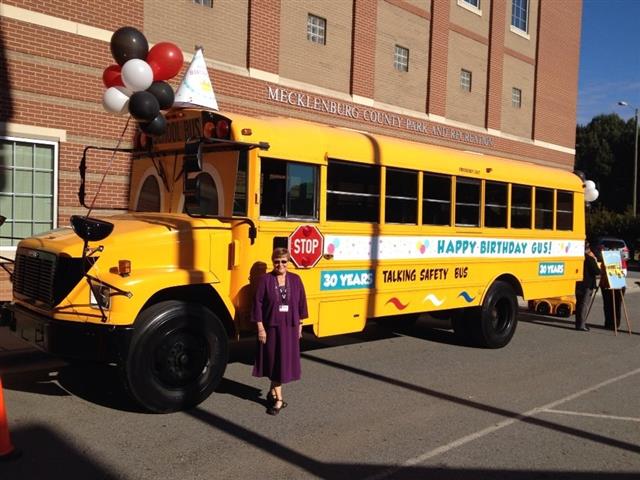 School Bus Safety Week (October 21 – 25, 2013) was celebrated in Charlotte-Mecklenburg Schools this week with a special salute to school bus drivers and a very special birthday honoring the 30th Birthday of "Gus the Bus".
| | | |
| --- | --- | --- |
| | | |
| Dr. Ann Clark, Deputy Superintendent of CMS welcomes a large crowd to honor Gus The Bus' 30th birthday | | Carol Stamper, Executive Director of CMS Transportation salutes school bus drivers locally and across the state for their hard work driving students safely to and from school. |
October 24th, Carol Stamper, Executive Director for Transportation for CMS welcomed a very large crowd of school bus drivers, school board members, central office staff, retired transportation staff and news media to Dilworth Elementary School to congratulate and honor the excellent job all school bus drivers do to safely transport our children to and from school and honored a very special bus and the driver behind the wheel for "Gus The Bus" for 30 years of promoting school bus safety. Gus was decked out sporting a special birthday hat, balloons and birthday banners. (below)
| | | |
| --- | --- | --- |
| | | |
| Gus is decked out in Birthday attire | | Buster arrives to celebrate his "Big Brothers" birthday |
Laura Jones has been the voice and driver behind Gus the Bus for 30 years for CMS. Don Byrnes, retired from Cleveland County Schools, formerly of CMS, visited other school districts across the state with bus safety programs 30 years ago and came up with the idea of CMS having their very own safety bus and program.
Byrnes hired Jones, who has been behind the wheel and the voice of Gus since. It is a job she truly enjoys. Dr. Ann Clark, Deputy Superintendent of CMS, spoke fondly of Gus in her early years as Principal of Shamrock Gardens Elementary School. While planning this special event for Gus, she received calls from alumni having been through Gus' program through the years and now their children are experiencing the safety lessons Gus teaches. Gus has many friends and SAFETY is always his main concern.
"Buster the Bus" joined Gus a few years ago to help teach bus safety and helped celebrate his big brother's special birthday along with the students. Buster reminded the students of two very important bus safety rules - the 4 b's of staying in your seat which they all quickly recited "Bottom to Bottom and Back to Back" along with a reminder of the danger zone – "10 giant steps away from the sides".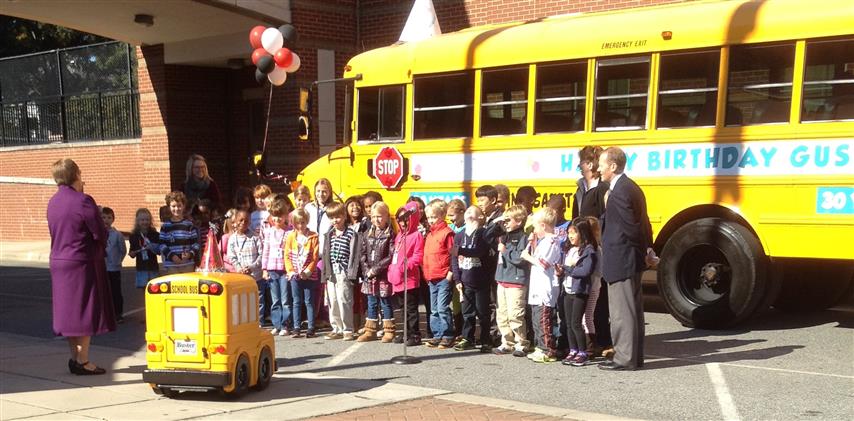 The students sang "Happy Birthday" to Gus and a giant birthday cake was enjoyed by all. Buster gave Laura a very special picture of Gus and himself to commemorate the occasion.
An estimated 567,000 students have been reached in the 30 years Gus the Bus has been working in CMS. Gus amazes everyone at each school because he always remembers a special birthday, a new baby, or other special events in the lives of the students he visits each day while emphasizing school bus safety. Gus participates in many community events, such as the Thanksgiving Parade in Charlotte, Festival in the Park and other notable events where children and SCHOOL BUS SAFETY are always his main story. October 28th, The Charlotte Observer gave Gus and Laura the front page to help celebrate School Bus Safety, sharing the special story of Gus and Laura.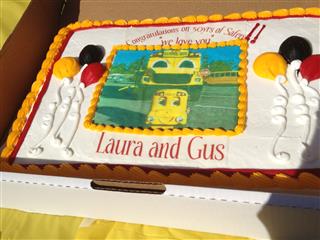 Congratulations Laura and Gus - thank you for all you do to keep our students safe!