An Avery County school employee was named the best school bus driver in the state at the annual State School Bus ROADeo held at the state fairgrounds in Raleigh on May 24th.

Mitch Banner took the top honor after completing the difficult written test and navigating a school bus through an
obstacle course that tested drivers' skills in mastering events including diminishing clearance, backing, making a tight turn and parallel parking to name a few.
Mitch has been a school bus driver continuously since 1981 and driven the fuel truck since 1984. He has a stellardriving record and is popular with his student passengers and everyone in the school system. His former boss Jeff Lyons, now transportation director in Watauga, says "I worked with Mitch for 17 years. Mitch is one of the safest, most dependable bus drivers I know. The safety of his passengers has always been his priority. This honor is very much deserved". Mitch attributes his win to "vigilantly studying the NC school bus driver hand book and mentally memorizing the driving course noting the best way to set up for each event".

Banner received a $500 cash prize and a trip to represent North Carolina at the national school bus driving competition this July 14-15 in Milwaukee.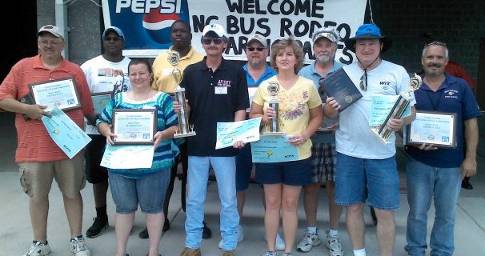 The top ten drivers in order of finish are: (1) Mitch Banner (Avery), (2) Billy McKemey (Wake), (3) Sharon Miller
(Davie), (4) Charles Mantie (Jones), (5) Chris Owens (Sampson), (6) Jeff Mellen (Wake), (7) Boyce Chapman
(Cabarrus), (8) Alex Wright (Union), (9) Lonnie Christenbury (Cabarrus) and (10) Tracy Rayborn of Buncombe
County Schools.