Effective June 1st three residential schools formerly operated by the Department of Health and Human Services (DHHS) were transferred to the Department of Public Instruction. As part of state government restructuring, the Governor Morehead School for the Blind, the North Carolina School for the Deaf and the Eastern North Carolina School for the Deaf – along with their transportation operations – began a new relationship with DPI. The campuses are located at Morganton, Raleigh, and Wilson. About 35 activity buses are operating across the state serving students who attend these schools during the week. Typically students are picked up on Sundays, delivered to their schools, and returned home on Fridays. Some of the routes are in excess of 10 hours round trip.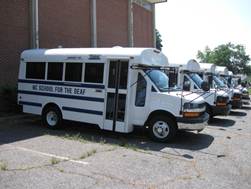 Most of the residential buses are 14 passenger type A school buses.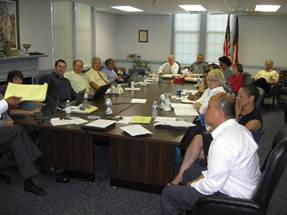 The two agencies met at the Governor Morehead School on June 2nd for a presentation (similar to New Director training) to show what services are offered by NCDPI Transportation Services. Ideas were exchanged and shared about the similarities and differences of operation between the two agency's transportation services.
One big difference is that the buses operated by these three schools now come under the policies of the State Board of Education, including bus inspections and preventive maintenance.
The DPI field consultants started initial inspections of the DHHS fleet last month. The maintenance staff of each school was on hand to observe the DPI inspection process and were given a defect list of items to repair. The buses will be fully incorporated into all PM & MI programs currently operated under DPI regulations.
For the first 3 months all 30 day inspections will be performed by DPI field consultants until the three campuses identify certified inspectors to conduct the inspections.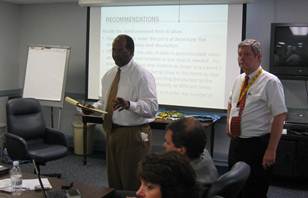 Current bus routes – both activity bus routes and charter bus routes - were examined by the TIMS staff for efficiency and operational procedures. Jeff Tsai, Mickey Michael and Bonnie Sluder conducted a study that was presented at the June 2 meeting. Their study made some efficiency recommendations, but largely validated the efficiency of the current operation.
Presentations about LEA transportation services and expectations were given to DHHS staff members by various DPI staff & NC State staff. Shown (left) is Steve Beachum & Mickey Michael
As seen in the map below, the Type A activity buses and charter buses cover most of the state providing weekly service to the students attending these schools.


DPI welcomes the opportunity to work with the dedicated personnel who have been employed through DHHS and will now be transferred to the DPI family.
Below are many of the faces of the new team dedicated to providing safe transportation for the students attending these residential schools.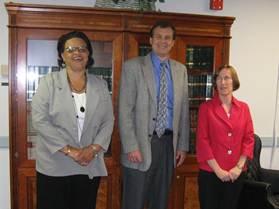 Dr. Barbria Bacon, Superintendent of Schools for the Deaf & Blind, Derek Graham (DPI), Debbie Jackson, Superintendent's Office
Governor Morehead School for the Blind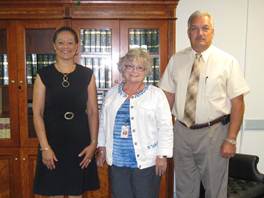 Laura Wooten (Director of Student Services), Celia Ogburn (Business Officer), Craig Warren (DPI)
North Carolina School for the Deaf (Morganton Campus)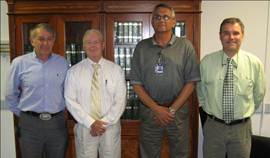 Charles Ball (DPI), Dave Beck (Transportationn Coordinator), Douglas Pitts (Business Manager), Randy Henson (DPI)
Eastern North Carolina School for the Deaf (Wilson Campus)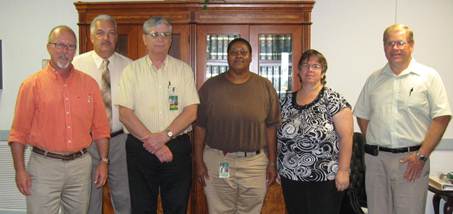 Robert Gooding (Director of Facility Services), Craig Warren (DPI), Richard Courliss (Business Manager), Marie Blackwell (Transportation Aid), Debra Pierce (Residential/Transportation Coordinator), Keith Whitley (DPI)
TIMS Staff, NC State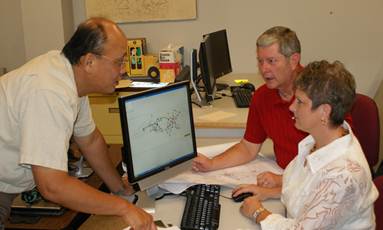 Jeff Tsai, Mickey Michael & Bonnie Sluder