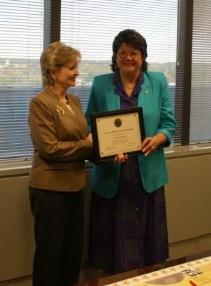 State Superintendent June Atkinson presents Jean two certificates recognizing her service to DPI and the State of North Carolina.
Jean Strickland, administrative assistant for Transportation Services and friend to everyone in transportation across the state, retired effective November 1. "Miss Jean", as she is affectionately known by her co-workers, had been with Transportation Services since 2003. At the DPI all-agency meeting last month, Jean was recognized for her 25 years of service. She worked in several departments – including Exceptional Children and Career/Technical Education before finding her way to Transportation Services.
Jean is known throughout DPI as a diligent employee who is very thorough in all of her tasks. This trait was never more evident than when she was behind the desk on the 7th floor working with Derek Graham, Steve Beachum, Craig Warren and Kevin Harrison.
Jean's work ethic proved a valuable asset operating as the sole assistant serving both the staff members of DPI Transportation Services and assisting all 100 counties in all most every topic related to school bus transportation in NC. Jean handled the logistics associated with many important projects, including the State ROADeo, the school bus safety poster contest and the New Personnel Training.
The field staff consisting of Charles Ball, Randy Henson and Keith Whitley relied on her keen eye in reviewing pages and pages of documents every year including bus sale forms, scrap metal sales, letters to superintendents, monthly expense reports, and mileage reports just to name a few. "In the rare instance when she did find an error, she would email the document back and politely explain what could make the report or form more user friendly for her to process" explains Randy Henson. She was always "patient and kind" describes Charles Ball.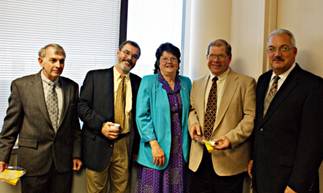 with "The Field Guys and Craig" at her retirement party
Most people are unaware of the countless hours Jean spent behind the scenes working with the Seized Vehicles project. She was right at home on the auction truck recording sales prices, removing holds from sold vehicles or trying to calm members of the public whose seized car had been driven by a family member or acquaintance "that I didn't know had taken my car – really!!" Jean's assistance to Steve Beachum was invaluable in making this project run smoothly.
Derek Graham was continually impressed with her efforts. "She wanted things done and done right. Right up until the weekend before she retired, when she was working – off the clock – to tie up loose ends and make things easier for the next person, she always embraced the work we do here in transportation. "
Perhaps most of all, Jean enjoyed working with the folks in the transportation departments across the state. Though most of this was through telephone and email contact, Jean particularly enjoyed the summer conferences, ROADeos and other opportunities to interact with her statewide transportation family.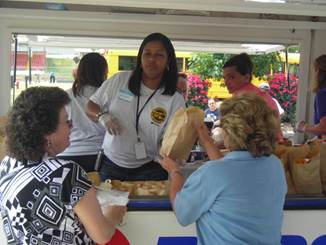 Jean, clip board in hand, makes sure that everybody has a ticket for their bag lunch at the State ROADeo!

Craig Warren sat the in the neighboring office and knew her as a true friend. "I can honestly say that Jean put her family's needs before her own. It seemed to me that Jean gave from her heart and her wallet when it might not be easy to do, but Jean is just that kind of a person."
What now? Maybe getting her house finished (storm damage!), spending time with her family, travelling …. But no doubt helping others in some capacity. After all, JEAN IS JUST THAT KIND OF PERSON.
Jean will be missed by ALL. Thanks, Jean and best wishes for a well-deserved retirement.