North Carolina Receives Six New School Buses with 2010 Emissions
Starting this August, students in four eastern North Carolina school districts will be riding to and from school in new buses that do more to protect the environment. On July 28, the state received its first-ever delivery of six new buses that meet 2010 emission requirements. The buses will replace older units in Wilson, Edgecombe, Pitt and Nash (WEPN) counties. Funding for the new buses was provided to the North Carolina Department of Public Instruction (NCDPI) through the U.S. Environmental Protection Agency's National Clean Diesel Funding Assistance Program, which received funds through the American Recovery and Reinvestment Act of 2009.
"We already know that school buses are the safest way for children to get to and from school," said State Superintendent June Atkinson. "We are pleased to be able to do our part in also helping to make the air healthier for students and grateful to the EPA for sharing the cost of these new clean diesel buses."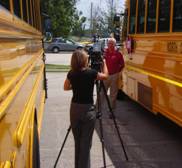 "I'm pleased that Carolina Thomas can deliver buses that help North Carolina execute an environmental strategy which includes vehicle replacement. The new Thomas Built buses will help improve overall fuel economy, reduce the state's carbon footprint and enhance passenger safety," said Tom Schaaf, general manager for Carolina Thomas. Schaaf (pictured at left) conducted television interviews at the rollout event.
Wilson, Edgecombe, Pitt and Nash Counties were selected by the NCDPI for early school bus replacement and diesel engine retrofits due to air quality concerns identified by the North Carolina Division of Air Quality and EPA. Without this grant, each of the six buses being replaced would still be running regular school bus routes for an average of seven more years or 75,000 more miles. In these six new buses, Nitrogen oxide (NOx) exhaust emissions — which contribute to acid rain, smog and greenhouse gas levels — are reduced to 0.2g/bhp-hr -which is 20 times less than 1998 engines.
LEAs picked up their buses at Carolina Thomas in Greensboro the morning of July 28. In the afternoon, the convoy stopped in Raleigh to meet the project team from state and federal government.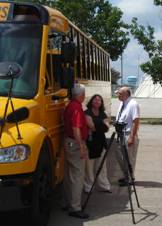 "These new buses will be healthier for the students and people in these counties," said Sheila Holman, director of the N.C. Division of Air Quality (DAQ). "By emitting less nitrogen oxide, the new buses also will better position the state to meet its goals and the possibility of stricter air quality standards from the EPA." Ms. Holman is pictured at right with John Calcagni from EPA and Tom Schaaf.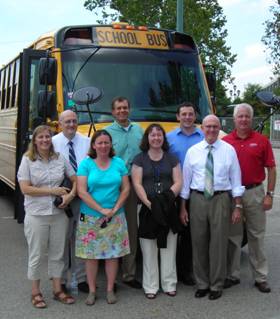 Pictured above are project team members (left to right), Heather Hildebrandt (DAQ), John Calcagni (EPA), Anne Galamb (DAQ), Derek Graham (DPI), Sheila Holman (DAQ), Kevin Harrison (DPI), Dr. Ben Matthews (DPI) and Tom Schaaf (Carolina Thomas).