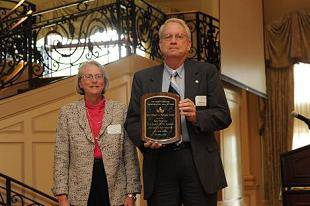 At the annual induction ceremony of the North Carolina Transportation Hall of Fame, Don Byrnes received the Perley A. Thomas award from Julie Hutchinson Huygens, Chief Technology Officer for Thomas Built Buses in High Point. The Perley A Thomas award is given annually by Thomas Built Buses to honor excellence in pupil transportation in North Carolina.
Don Byrnes worked for 19 years as a transportation specialist for Charlotte-Mecklenburg Schools and another 13 as transportation director of Cleveland County Schools. He was a delegate to the 13th National Congress on School Transportation in Warrensburg (May, 2000) and served on the state bus spec committee. He was also active in NCPTA at the district and state levels. He served as chair of the Legislative Committee for eight years and was state president in 1997-98. He served as an NCPTA representative to the North Carolina Association of School Administrators (NCASA) and continues in his retirement to chair the Transportation Advisory Group.
Don credits his wife Mary for the love and support she has given him through the years. In accepting the award, Byrnes explained how fortunate the school districts of North Carolina are to have such a high caliber company and recognized leader in school bus manufacturing right here in the state. He also explained how he cherishes his relationships with the many fine people involved in pupil transportation across North Carolina.
Previous winners of the Perley A Thomas award for excellence in pupil transportationwinners include:

2009 - DPI Transportation Services Section
2008 - Norfleet Gardner-Former DPI Transportation Services Section Chief
2007 - F. Sgt. Phil Wadsworth-NC Highway Patrol
2006 - James A Moen-Former Transportation Director, Guilford Co. Schools
2005 - Pupil Transportation Group, ITRE
Among other awards presented at the ceremony was the prestigious FOUNDER'S AWARD, this year presented to North Carolina Operation Lifesaver in recognition of that organization's years of working to promote highway / railroad crossing safety.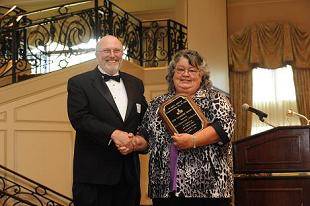 Vivian Speight Bridges accepts the Founders Award Plaque from NCTHF Founder David Robinson. The award was presented for excellence in Highway-Rail Safety. Vivian, a former school bus driver instructor with DMV works tirelessly as the state's coordinator for Operation Lifesaver. She is very responsive to the needs of school districts in providing the national Operation Lifesaver curriculum to students and school bus drivers.
Operation Lifesaver is a program designed to help save your life at the most dangerous spot on any highway or road -- the highway-rail grade crossing. Operation Lifesaver is an active, continuous public information and education program to help prevent and reduce crashes, injuries and fatalities by improving driver performance at the nation's aproximately 270,000 public and private highway-rail grade crossings and on rights-of-way. To achieve its mission, Operation Lifesaver developed a program that emphasizes Education, Engineering and Enforcement activities. These activities are called the Operation Lifesaver 3-Es.
Link to the NC Transportation Hall of Fame web page- http://www.ncthf.org