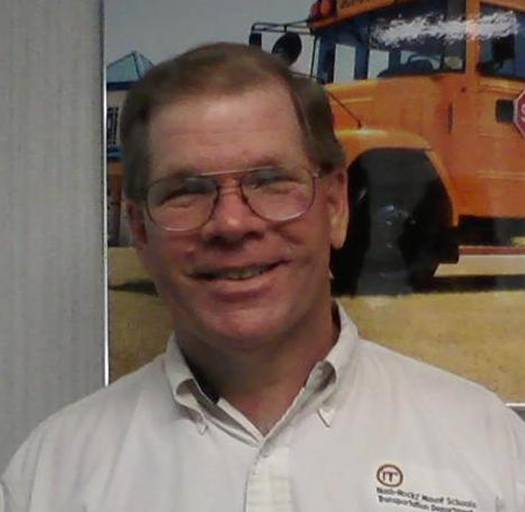 Effective October 1 Keith Whitley joins DPI Transportation Services as the newest field consultant covering the 39 eastern counties.
Keith was the Transportation Supervisor with Nash-Rocky Mount Schools with 24 years experience. He was hired as an M1 and slowly worked to his current position. He was born and raised in Nash County and attended Nash County Schools. He graduated from Southern Nash High School and took classes at Wilson Technical School.
Prior to his employment with the school system he worked at Whitley Tires (1981 to 1986) and was a farmer from (1976 to 1981).
Keith brings with him a vast amount of experience in the school bus field. He is a Master ASE school bus technician and has served on the state school bus spec committee. He has been very active with NCPTA in the roles of Secretary/Treasurer, Vice President, President and Director 1 and 2 and served on the Advisory Council of NCPTA District 6. He was among the first in the state to receive certification as a NC School Bus inspector and trainer.
Binford Sloan, transportation director for Nash-Rocky Mount Schools offers these comments. "Keith has been a true member of the transportation family with Nash-Rocky Mount Public Schools for a quarter of a century. No matter whether it has been at work or outside, he has always helped each of us in any way he can. Keith has always gone above and beyond the call of duty with any and every thing that comes our way in Transportation without being asked to. As he leaves our Nash-Rocky Mount family it is my hope that the State of NC transportation family accepts him with open arms. There couldn't be a finer person working towards the safety and growth of pupil transportation in North Carolina."
Keith is a member of Rock Springs Freewill Baptist Church, a Church Deacon, Sunday school superintendent and teacher. He has been married to his wife Glenda for 33 years, has one son Brad and daughter-in-law Amanda.
Keith will begin training immediately with various DPI staff and will be traveling around the eastern territory getting to know his customers.
Please join us in welcoming Keith Whitley!