2010 BioDiesel Blitz
Chicken fat or used cooking oil from an area restaurant could be some of the ingredients in the fuel running your child's school bus. 16 counties in North Carolina are participating in a blitz to use bio-diesel in public school buses during April and May 2010. North Carolina State Law requires that the public schools (in total) purchase 2% bio-diesel for use in school buses during the course of the year.
Piedmont Biofuels, Potter Oil & Tire Co, and the North Carolina Department of Public Instruction are working together on the project, one that many are hopeful to be the beginning of a transition to cleaner fuel for more school districts. Current participants include Bladen, Bruswick, Burke, Catawba, Chatham, Dare, Durham, Edgecombe, Gaston, Martin, Onslow, Orange, Pender, Tyrrell, Union and Wake counties. In 2007, the state legislature established an annual target of a minimum of two percent biodiesel in public school buses statewide. See www.ncbussafety.org/Biodiesel.html
The biodiesel for the project is produced at Piedmont Biofuels, located in Pittsboro, N.C., and then delivered to Potter Oil in Aurora, N.C., where it's mixed with regular diesel into a B20 combination, implying the final substance is 20 percent biodiesel.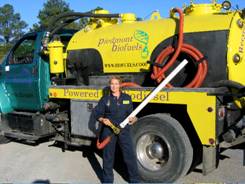 That's enough to reduce harmful emissions by around 20 percent, according to Rachel Burton of Piedmont Biofuels, pictured at left. That produces a decrease in carcinogens of particulate matter, burnt hydrocarbons and carbon monoxide, which is good for the environment and a positive impact on our health. She says the reduction is especially important for elementary school children because of their smaller size.
"The typical range of harmful particulate matter is around 4 feet high," she said. "Often kids are breathing harmful matter that adults aren't in range of."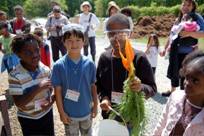 The project is not the first one related to education for the cooperative. They have previously put mini-plants on school buses so kids can understand how biofuel is made, without having to travel to their site. Yet, they do welcome school groups to come tour their facilities, which is part of a green industrial park with the Abundance Foundation that focuses on renewable energy, local food and community support.
Piedmont Biofuels offers free tours to the public every Sunday at 1 p.m. and on the first Friday of the month at 10 a.m.