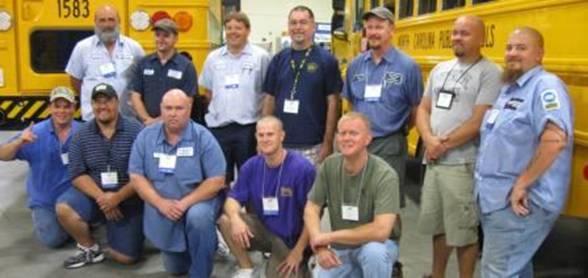 2010 TOP 12 NC bus inspectors
Beaufort County is the employer of two of the top three winners at the Best School Bus Inspector contest. Danny Reed, in his fifth competition, took the top honor & $500.00 (his second state title) at the Cabarrus Arena on July15, 2010. He and eleven other finalists inspected three different buses that were specially "set up" by DPI consultants Charles Ball Craig Warren, and Randy Henson. Rick Jennings from Wilkes Co. assisted as a time keeper. Each bus had 10 defects to be identified in order to score points. The contestants also had to take a 50 question written test in order to qualify for the finals. This year's contestants received an added surprise that allowed them to receive their bus inspector certification if they scored better than 80 on the contest exam and had more than 5 years experience inspecting buses.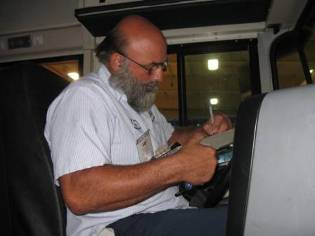 Danny Reed is always a cool and calm as he carefully writes down defects he hopes are "must find".
Danny has been a school bus technician for the past 10 years. His boss, Jerry Wynne, is
not surprised that Danny won…again. "He is a dedicated employee and places the safety of the children whom ride the buses he services as his top priority".
When the judges tallied up the test scores after the competition, 1st, 2nd & 3rd were only three points apart respectively. The top two winners automatically qualify to represent NC in the National Best Bus Inspector and Technician competition to be held in Jasper Indiana.
Another name familiar to the winner's bracket, Tim Speer from Yadkin Co. placed 2nd. Tim is a past State and National champion and is always a tough but friendly competitor in the school bus inspection contest. Tim took home $300.00 for his effort.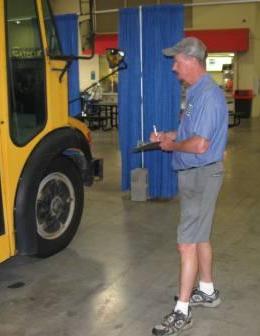 Tim said "I was not happy to be beat by only ONE point but Danny is always here (at the contest) and pushes me to try harder"
Ashley Whitfield from Beaufort placed third after two years of being in the top 12. Jerry Wynne has to be extremely proud to have two of his employees perform so well at the event.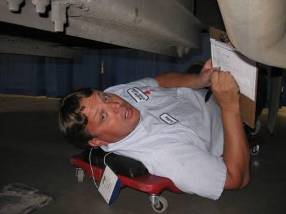 Ashley Whitfield places THIRD and won $200.00!!!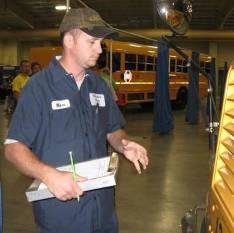 Mark Lail from Rutherford is a regular at the inspection contest.
Both Danny and Tim will attend the America's Best event held in late September and plan to bring a top prize back home to NC from the National event. "Last year NC did not place in the event for the first time in our history at America's Best and we plan to remedy the situation" says both Danny and Tim.
The rest of the finalist by placement included:
| | | |
| --- | --- | --- |
| Wake | Trango | Ralph |
| Pitt | Wells | Dustin |
| Rutherford | Lail | Marc |
| Brunswick | Hatcher | Michael |
| Wilkes | Blackburn | Jason |
| Mecklenburg | Lemly | Darryl |
| Pender | Bungay | Michael |
| Pitt | Richardson | Tony |
| Cumberland | Gallimore | Barry |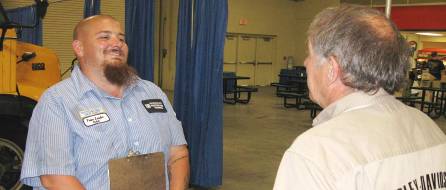 Ralph Trango from Wake Co. receives instructions from Charles Ball before he begins the "outside body" segment of the competition.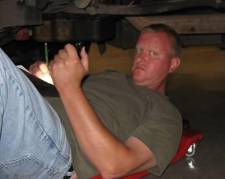 Jason Blackburn from Wilkes looks as if the photographer is causing him a distraction of his precious 10 minutes on the "Chassis" portion.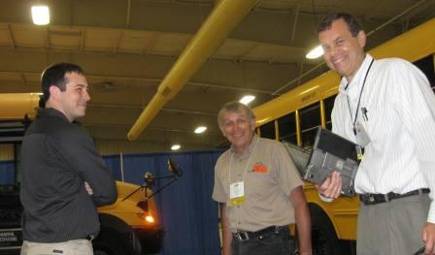 Kevin, Charles & Derek appear to be up to some kind of mischief between rounds at the competition.
NCPTA & DPI appreciates the participation of the 22 inspectors who attempted the written test and hopes that these and many more will be back to try again next year at NCPTA conference.
DPI annual inspection banner winners
The best LEA transportation department inspection banners were handed out at the NCPTA conference at Concord on July 16th at the DPI Update session. The banners are awarded to the county with the fewest defects discovered over the 10% of buses inspected by DPI consultants. Recipients of the banners for 2009-2010 are Polk County (Western), Scotland County (Central) and Pamlico County (Eastern). Congratulations go out to all the employees in these counties.
2010 State wide Inspection banners