Love the Bus 2010
Many schools in North Carolina celebrated "Love the Bus" as part of a national campaign by the American School Bus Council to encourage bus driver appreciation and promote bus safety awareness. More than 25 million students ride the bus in the United States each day, including nearly 800,000 students in North Carolina.

Students at Brier Creek Elementary sang songs and read poems to thank their school bus drivers for keeping them safe.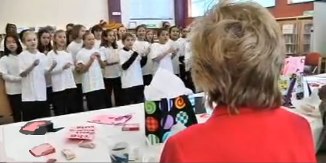 Click to see Music Videos and Song Lyrics.
www.americanschoolbuscouncil.org
www.lovethebus.com
State Superintendent June Atkinson rode the bus with students to Brier Creek Elementary School in Wake County on February 11.

"To help spread awareness, students at Brier Creek Elementary in Raleigh were surprised with a special rider Thursday morning – State Superintendent June Atkinson" - News14




State Superintendent June Atkinson ate breakfast with and spoke to bus drivers at Brier Creek Elementary School. Each driver was presented with a handmade purse and valentines from their students.

After the breakfast reception at Brier Creek Elementary School, bus drivers were surprised to find each bus decorated and signed by the students who ride them.

On February 18, school bus drivers at Bethel Elementary and Bethel Middle Schools in Haywood County were honored with biscuits and coffee, thank-you cards from students, and a letter of appreciation from the school administration.

Each of the 8 bus drivers for Bethel Middle and Bethel Elementary Schools received a "Love the Bus" sweatshirt from the school as another signal of appreciation.

Bus drivers and students celebrate Love the Bus at Manteo Elementary School in Dare County on February 12.

Manteo Elementary School Principal Lisa Colvin with school bus driver Anita Ballance, More at Four teacher Daisie Alexander with MAF students on February 12.

Manteo Elementary School bus driver Betty Carol McClease gets hugs from More at Four students and teacher Daisie Alexander as part of Love the Bus.

First Flight Elementary School bus driver Ralph Holder is shown appreciation on February 12 by Assistant Principal Debbie Shepheard and several kindergarten students in Nancy Wright's class - Austin Mills, Jeremiah Williams, Gabe Perry, Allison Winfree and Carson Smith.

Nags Head Elementary School bus drivers were honored by students on February 16. From left, Dare County Schools Transportation Department staff member Debbie Cooper, TIMS manager Wendy Schwartz with NHES school bus drivers Keenan Goosman, Dennis Doyle, Robin Conover, Sheila Diehm, and lead driver Jean Lachine; and students (from left) Scotty Burton, Sky Seal, Tavia Whisner, Caleb Jones, Isabell Eckard, and Raven Davis. After giving the drivers bundles of cards, the drivers were treated to lunch.

Bus drivers are welcomed at Gibsonville Elementary School in Guilford County on February 12.

A bus driver is welcomed with gifts at Gibsonville Elementary School.

A bus driver is welcomed with gifts at Gibsonville Elementary School.

Bus drivers are recognized at Hiwassee Dam School in the Cherokee County School District.

Bus drivers of the Murphy schools in the Cherokee County School District were presented awards.

Bus drivers of Ranger Elementary and Ranger Middle Schools were honored with a special lunch.

Bus drivers of the Andrews Schools in Cherokee County were honored with a reception.

Julie Roberts and Deana Dixon deliver helium balloons to the bus drivers in Transylvania County. Drivers received a balloon, certificate and candy bar as a sign of the district's appreciation.

In Stanly County, Locust Elementary School's bus drivers were recognized on February 12. Bus drivers Bill Pope, Leslie Barbee and Henry Furr were presented with school bus mail boxes filled with student made valentines. Students made cards to show their love and appreciation to the bus drivers for taking them safely to and from school each day. The drivers are pictured with Principal Theresa Troutman.

Pitt County Schools Superintendent Beverly Reep spoke to the students of Wahl-Coates Elementary about bus safety. Students thanked their bus drivers following her speech.

Wahl-Coates Elementary students also made Valentine Cards and presented them to the bus drivers. A reception was held for the bus drivers with pizza and cake.

Students of Wahl-Coates Elementary decorated their buses with magnetic lips to show their appreciation.

The art department at J H Rose High School in Pitt County created a huge banner that was displayed in the school. In addition, the administration served the drivers with breakfast prior to them taking off for their morning routes.

Every bus at Ridgewood Elementary School in Pitt County was decorated with "Love the Bus" lips on February 12. Students and staff signed their names on the "lips".

Rowan-Salisbury Schools held numerous events to celebrate LOVE THE BUS.

Pictured at right are RSS transportation staff preparing to serve food to drivers in appreciation of their service.

Click here to read the article from the Salisbury Post.


Students at Whitaker Elementary of the Winston-Salem/Forsyth County Schools celebrate Love the Bus.

Whitaker Elementary Students present their bus drivers with valentines.

Students and bus drivers celebrate Love the Bus at Mt. Pleasant Elementary School of Wilkes County Schools.

Drivers Mark Adams, Gail Vidrine and Larry Eller show off their appreciation certificates at Mt. Pleasant Elementary School.

Students at Mt. Pleasant Elementary School drew and wrote about why they love the bus.

Drivers were presented with a Love the Bus cake at Mt. Pleasant Elementary School.

Drivers, students and teachers enjoy the Love the Bus reception at Mt. Pleasant Elementary School.

Drivers and monitors of pre-k buses in Duplin County were treated to breakfast and entertained with a skit by directors.

On February 10, Duplin County Schools Transportation Director Jeff Thigpen rode a Beulaville Elementary bus with driver Loria Hall.

Gates County Schools held their LOVE THE BUS driver appreciation event at Gatesville Baptist Church on February 18.

Union County chose to "do something a little different and use 'Love the Bus' to think about the many people in Haiti..."

The Union County Public Schools Transportation Department is joining the global effort to help earthquake victims in Haiti by sending them a school bus filled to the brim with needed supplies. Then the bus will be used to transport Haitian teachers. Read more HERE.

Volunteers loading the Bus with needed supplies

Stuffing the "Stuff the Bus" Bus full of Relief Aid

Thomas Built Buses (TBB), Carolina Thomas, LLC and Winston-Salem/Forsyth County Schools sponsored a Love the Bus event at Forest Park Elementary School on Thursday, February 18th. Participating in the celebration were TBB President and CEO Kelley Platt, Carolina Thomas General Manager Tom Schaaf and WS/FCS Transportation Operations Manager Rhonda Fleming. Ken Hedgecock of TBB delivered remarks on behalf of the American School Bus Council (www.americanschoolbuscouncil.org). Ms. Norma Hernandez White coordinated the school's Love the Bus Activities.