Reed & Speer Participate in 2009's America's Best Bus Inspector Contest
Tim Speer, winner of the 2009 NC Inspection competition and Danny Reed, Runner-up went to America's Best Inspector/Technician competition held on September 22-25 at Greenville SC. Tim entered the inspector competition while Danny did the Technician competition.

Neither took home a top prize this year but they were definitely a target amongst the other contestants as both Danny & Tim have previously been national champions at the America's Best event.

See http://www.ncbussafety.org/Archives/archive2009BusInspectorContest.html for an article about the NC competition held earlier in the year.

David Smith from Ohio won the technician title and Nikolas Warejcka from Colorado took home the top prize in the inspector competition, hosted by Michelin Tire North America.
(L-R) Jon Sturdivant-Arkansas 3rd Place
Terry McDaniel-Missouri, 2nd Place
David Smith-Ohio, 1st Place

(L-R) Ariel Rodriguez-Texas, 3rd Place
Chris Hodges-Utah, 2nd Place
Nikolas Warejcka-Colorado, 1st Place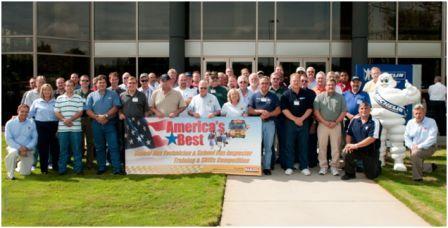 Michelin North America hosted the national competition this week at the North American HDQ's in Greenville.
Contestants & Guests are pictured in front of Michelin HDQ's
To qualify as America's Best technician and inspector, competitors were scored on both written examinations and multiple hands-on components. The exams covered technical aspects of various school bus components, including electrical systems, brakes, engines, suspensions, drive trains and body systems.
This examination was prepared and administered by The National Institute for Automotive Service Excellence (ASE).
| | | |
| --- | --- | --- |
| | | |
| Tim Speer | | Danny Reed |
During the second portion of the competition, technicians must demonstrate the ability to diagnose, troubleshoot and repair various mechanical components found on school buses. Competitors will rotate through three diagnostic stations, which will involve actual vehicles, and a bench test situation. Inspectors will rotate through three stations requiring them to inspect all vehicle components and systems to identify defects.
The event also included numerous instructional classes taught by various vendors pertaining to the school bus industry.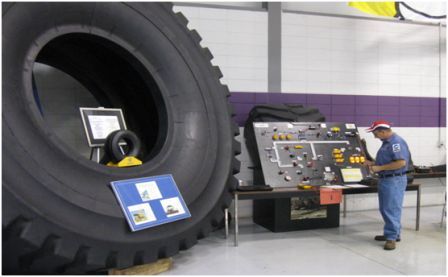 Rick Jennings from Wilkes Co. is pictured here next to Michelin's largest product, a 13,000 lb. $70,000 tire. Rick served as judge for one of the diagnostic stations.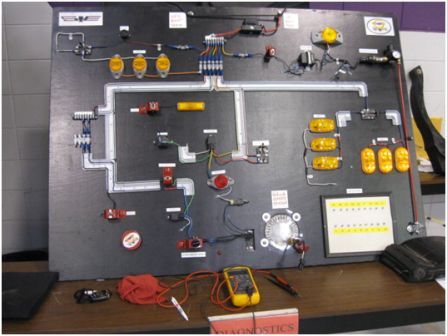 The circuit testing station proved to be one of the toughest for the competitors. The ability to use all facets of a multimeter was tested here.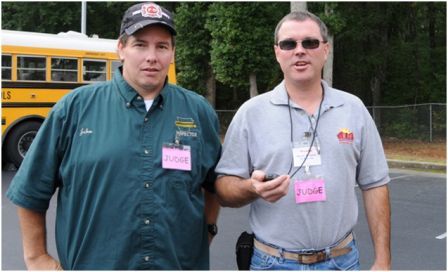 Randy Henson (right) pictured with a fellow bus inspector John Schooley from Arkansas, served as a judge for the inspection competition.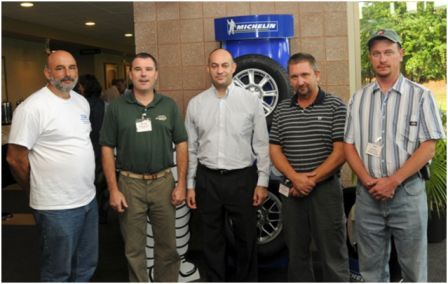 Pictured L-R. Danny Reed, Randy Henson, Damien Michelin, great grandson of the founder, Rick Jennings, Tim Speer.
"Over the years, America's Best Tech has been successful in raising awareness for school bus maintenance and safety," said Bill Tousley, president of NAPT. "Not only does the competition help technicians share and learn best practices, but the information provided is valuable for continuous improvement and learning"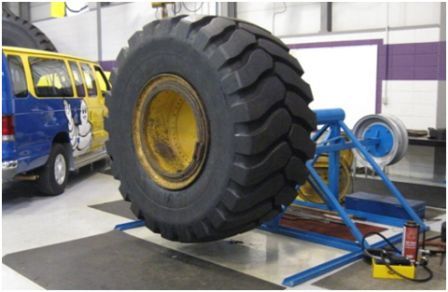 One of the many practice tires at the Michelin training facility
The contestants and guests were given an extensive tour of Michelin's 3000 acre test track facility including ride-alongs with professional drivers as well as behind the wheel experience on a ½ mile skid track. Left- A two ton truck drifts around the ½ mile. Right-Randy Henson takes a thrill ride on a road course at 100 mph+.
"One of the most important - and easiest - maintenance checks on any heavy-duty vehicle, including school buses, is proper tire inflation, and this competition gives us a great opportunity to talk tires with these mechanics," said Roger Handren, director of government sales, Michelin North America. "Our goal for hosting the event is to bring more attention to school bus safety and maintenance, but we're also excited about showing off Greenville and the Upstate to the mechanics who may have never been here before."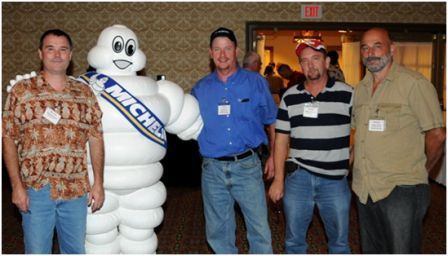 A plant tour of the Greenville production facility was a highlight of the week. The tour saw raw rubber turned into a finished product in the 1,000,000 sq. ft. facility. No pictures were allowed inside the plant but the Michelin Man was ready for a photo with Randy, Tim, Rick & Danny.
"This has been a fantastic 'America's Best' competition, and Michelin has been an excellent host", said Rick Jennings, shop foreman from Wilkes Co. "In addition to participating in the competition, the contestants have learned some things from each other that they can take back to their jobs ensuring the safety of our children."

The entire group poses for one more.
Numerous vehicles are on display at Michelin.
North Carolina looks forward to sending contestants to the 2010 America's Best competition to hosted by Jasper Engines Inc. in Jasper Indiana.
For more details about America's Best go to http://www.americasbesttech.org/