Buster and Betsy Visit The State Fair
Buster & Betsy entertained, amazed, and amused the crowds visiting the school bus safety exhibit at the 2009 NC State Fair. The exhibit, co-sponsored by DPI Transportation Services and Wake County Public Schools Transportation, was moved out of "Safety City" to a very good location near the Kerr Scott building. Funding for the exhibit was provided by the Governor's Highway Safety Program (GHSP).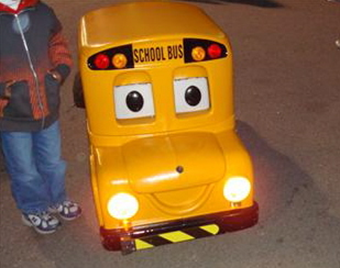 For many years DPI and numerous LEA transportation department employees and family members have faithfully facilitated Buster the Bus at the fair. The miniature robotic school bus comes alive and delights thousands of children and adults who visit the exhibit. Buster, who is the star attraction, costs approximately $8000. The robotic bus was originally purchased about 10 years ago in order to promote bus safety to elementary school children around the state.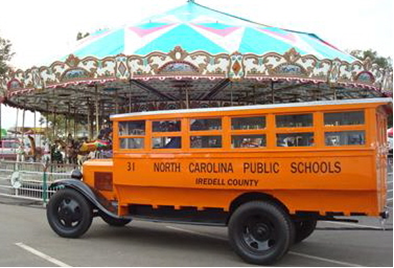 The other half of the entertainment for 2009 was "Betsy", a 1931 model Chevrolet school bus. Betsy as she is affectionately known by the staff at the Iredell school bus garage is a meticulously restored antique vehicle that looks as good on the outside as she runs mechanically. Terry Campbell, Iredell Transportation Supvr., commented that "Betsy had made a full circle by arriving at the fairgrounds" "Many years ago, Iredell transportation employees traveled to the state fair grounds to pick up the pieces of an old school bus that eventually became Betsy"
Derek Graham noted that Betsy stole Buster's limelight as Betsy was photographed by hundreds of fairgoers many who commented about her excellent condition.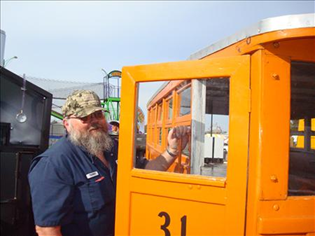 Terry Campbell, Iredell Transportation Supervisor, inspects Betsy before the fair begins.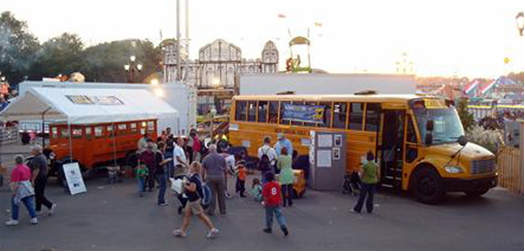 A special thanks to Wake Co. Transportation Dept. for providing the new bus for the exhibit.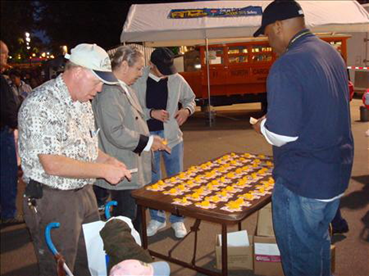 Of course Buster & Betsy could not gain any attention if it were not for the numerous volunteers who worked the school bus safety booth. These volunteers worked tirelessly to promote school bus safety to all who happened in to the exhibit.
Volunteers working the both were provided by the following LEA's and agencies:
Brunswick * Chatham * Cumberland * DMV *
DPI * Durham * Greene * Johnston * Lee
Moore * Pender * Pitt * Randolph * Wake
Wayne * Wilson
Thanks to all who participated. If you are interested in joining the fun at the state fair school bus safety booth, contact Derek Graham to be placed on the list of volunteers for 2010.