DPI Transportation Services receives award
at NC Transportation Hall of Fame
The DPI staff attended the annual NC Transportation Hall of Fame awards luncheon on October 12 in Charlotte to receive the 2009 PERLEY A THOMAS AWARD for Excellence in Pupil Transportation. This award is given each year to individuals or groups involved in school bus transportation.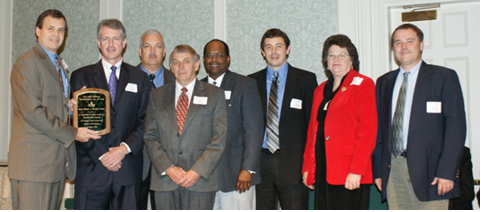 Left to right: Derek Graham, John O'Leary (CEO of Thomas Built Buses), Craig Warren, Charles Ball,
Steve Beachum, Kevin Harrison, Jean Strickland, Randy Henson, James Hawkins,(not pictured).
"In recognition of its pioneering efforts and continuing successes in school bus routing, safety, and services to local pupil transportation systems throughout North Carolina", Thomas Built Buses CEO John O'Leary presented the award to the Transportation Services Section Chief Derek Graham. In accepting the award, Graham commented on the team effort associated with pupil transportation in North Carolina. DPI provides services to LEAs including funds allocation, school bus inspection, fleet management and systems support. Further, the routing system (TIMS – the Transportation Information Management System) has long been recognized as a unique national model. John Chesser, Rob Hamby, Jody Pressley, Kevin Hart, Jeff Tsai and Mickey Michael attended the ceremony as members of the state-level transportation team.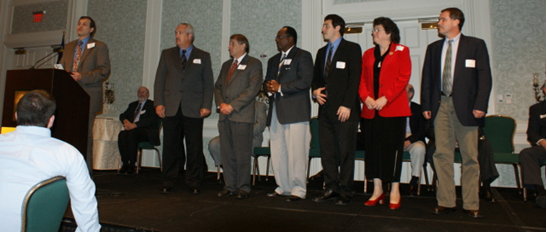 Derek Graham accepts the award on behalf of the DPI staff and other team members including the TIMS project staff
(ITRE and UNC Charlotte) and the transportation professionals in 100 school bus garages and 115 LEAs in North Carolina.
The 2009 Induction and Awards Ceremony is the sixth annual event and is the first to be held in Charlotte.
Previous years' ceremonies were held in High Point (2004, 2005 and 2008), and in Spencer at the North
Carolina Transportation Museum (2006 and 2007) where a permanent NCTHF exhibit is offered.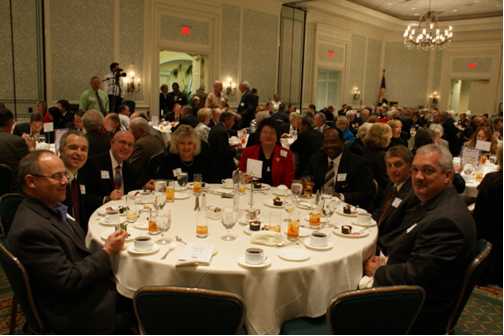 Rob Hamby and John Chesser (UNCC), Ben Matthews (DPI School Support Division Director), Jody Pressley (UNCC),
Jean Strickland, Steve Beachum, Charles Ball and Craig Warren. NCTHF exhibit is offered.
Prior to the presentation of the awards, eight North Carolinians were inducted into the 2009 NC Hall of Fame. NCDOT Secretary Gene Conti was the Keynote Speaker and performed the inductions
John Gray Blount (early shipping pioneer in eastern NC)

R. Getty Browning (State Highway Commission employee responsible for obtaining most of the right-of-way for the Blue Ridge Parkway)

Champion McDowell Davis (lifelong employee and past president of the one-time Wilmington-based Atlantic Coast Line Railroad)

Paul P. Davis (past president of McLean Trucking Company)

Jack Murdock (past Secondary Roads Officer with NC Department of Transportation)

Zeke Saunders (former USAF and Piedmont Airlines pilot and past vice president for operations, Piedmont Airlines)

Ralph Whitehead (former president of Charlotte-based transportation engineering design firm, Ralph
Whitehead & Associates)

T. Ralph Young, Jr. (president of Asheville-based motor coach company, Young Transportation)
Previous winners of the Perley A Thomas award for excellence in pupil transportation winners include:
2008-Norfleet Gardner-Former DPI Transportation Services Section Chief
2007-F. Sgt. Phil Wadsworth-NC Highway Patrol
2006-James A Moen-Former Transportation Director, Guilford Co. Schools
2005-Pupil Transportation Group, ITRE
Link to the NC Transportation Hall of Fame web page- http://www.ncthf.org/