Johnston County Student Wins National School Bus Safety Week Poster Contest
Jennifer Sieredzki, a second grade student at Riverwood Elementary in Johnston County, won first place in the K-2 Division of the National School Bus Safety Week Poster Contest last month. Her artwork, completed last year as a first grader, competed with others from across the country. As the first place winner, Jennifer received a $500 savings bond from the National School Bus Safety Week committee. She was recognized at the Johnston County Board of Education meeting on December 8, 2009 where the award was presented by Derek Graham, section chief for Transportation Services, with the NC Department of Public Instruction.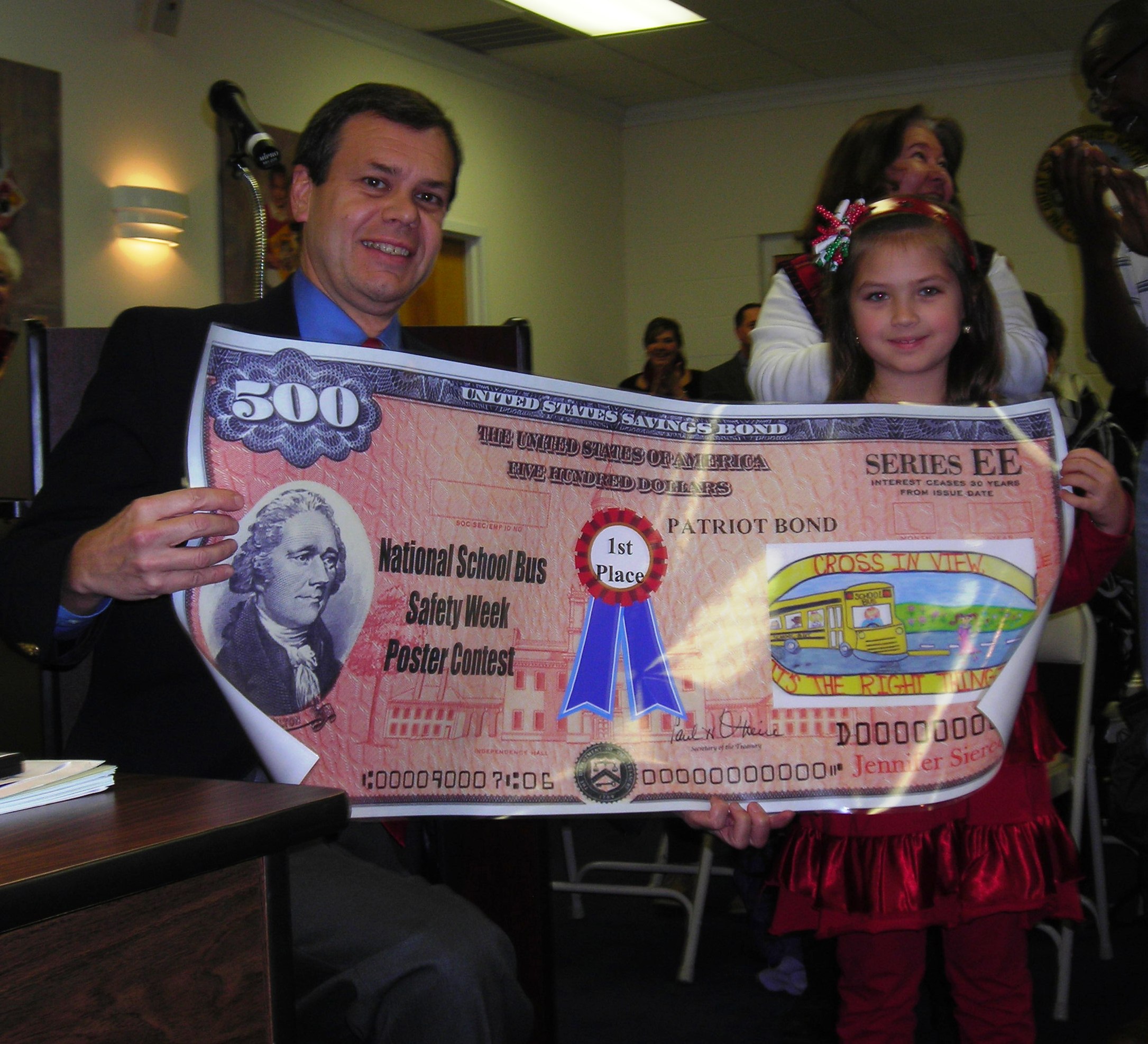 DPI's Derek Graham presents Second Grader, Jennifer Sieredzki, with the First Place Award; a $500 Savings Bond.

Jackie Fisher, assistant principal at Riverwood, describes Jennifer as a deserving recipient of the award. "Jennifer is a talented and delightful young lady. She is a very motivated student who always strives to be her best. She challenges herself to achieve to the best of her abilities. She works hard in her regular classroom at Riverwood Elementary, as well as her classes at the AIG Center in Smithfield, to accomplish goals given to her as well as those she sets for herself. She is a very helpful and caring student and is a joy to have in the classroom. Jennifer also is involved in an art class outside of school on the weekends. She takes lessons in clogging, gymnastics, and dance and is involved in her church.

Sarah Harris is Jennifer's art teacher at Riverwood. "Jennifer has been a highlight to my art class for the last three years. I began to see the natural artistic talent in her starting in Kindergarten. The work that she creates continues to amaze me. She goes above and beyond what is asked of her and really takes the project and adds her own personal touch to it. Over the last few years, Jennifer has sought out extra art activities. Her private art lessons and participation in art contests has allowed her to think "outside of the box" to create award winning entries. Jennifer's eye for composition and style are beyond her years, and I look forward to seeing what she creates every time she comes to class."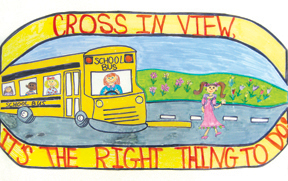 Jennifer's National Winning Poster
Jennifer's poster focused on the 2010 National School Bus Safety Week theme "Cross in View, It's the Right Thing to Do!" This theme highlights to students the need to remain in view of the school bus driver when crossing the street to board the school bus. Jennifer depicted the school bus crossing arm, emphasizing that students should remain outside the school bus "danger zone" by keeping a distance of ten giant steps away from the school bus. The ability of the school bus driver to see each student – and vice-versa – is critical to school bus safety.

For more information on school bus safety in North Carolina, including the poster contest, please visit www.ncbussafety.org.
To View the Official Department of Public Instruction Press Release - Click Here.