C2 Training Classes Ongoing Across The State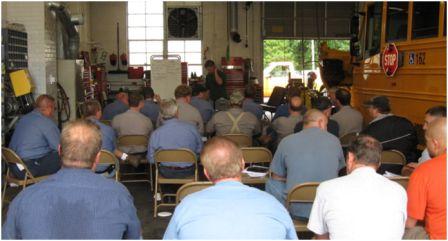 Beginning June 3rd, Carolina Thomas trainers have been canvassing the state holding a series of 20 classes dealing with C2 related training. Anthony Avant & Mike Stotler have been living on the road while criss-crossing the state to instruct NC school bus technicians on the up-to-the-minute techniques and tricks to maintaining the latest batch of school buses received during the past school year.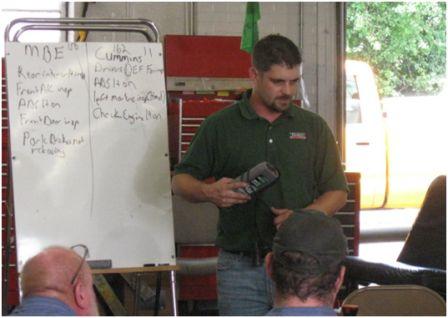 Anthony Avant teaches a class at the Wilkes Bus Garage
The six hour class consists of ½ day classroom instruction with question & answer session and ½ of hands-on diagnostics training. The latter half of the day consists of 2 groups of technicians diagnosing and repairing 2 "bugged" buses using the on-board fault codes displayed in the dash. "The idea is to get everyone to realize these new buses try to help technicians figure out their own problem" says Anthony Avant, a Carolina Thomas training specialist.

This group is trying to find the problems created for the training exercise.
Modern school buses are equipped with sensors on everything and the onboard computers constantly monitor hundreds of systems every second. Anthony is encouraging all technicians to spend the first 10 minutes interpreting fault codes and checking schematics before attempting to make a repair. Anthony says if you are not spending the 10 minutes described "you are chasing your tail".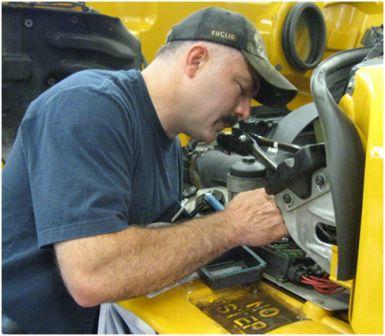 Garret Barnes from Ashe Co. checks the fuses in hopes of solving the mystery defect.
Most in attendance are very responsive to the information being taught. Anthony warns all technicians "the 5 year warranty period will go by quicker than they think and NC technicians should begin the learning curve for multi-plexed buses right now".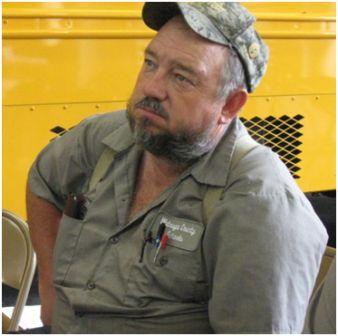 "Anthony lays it out in a way we can understand, he has been where we are and is a straight shooter" says Billy Potter, a school bus technician from Watauga County.
Currently, any vendor selling buses in NC is required by NC specification to provide four hours of classroom instruction for every bus sold. There will be another series of classes offered by Thomas during fall/winter of 2009.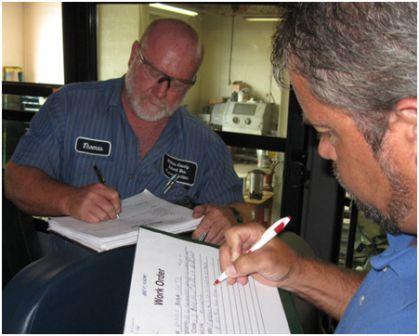 Thomas Hayes, technician (left) of Wilkes Co. and Jeff Johnson (right), Transportation Director from Alleghany Co (left) compare fault codes in order to diagnose the problem.
The last class of the current sessions is scheduled in Forsyth Co. on September 23.
There are a few seats available at the Brunswick and Forsyth locations. Call Randy Henson for reservations.
| | |
| --- | --- |
| CLASS LOCATION | DATE |
| Guilford | 6/10/2009 |
| Stokes | 6/12/2009 |
| Beaufort | 6/16/2009 |
| Craven | 6/17/2009 |
| Onslow | 6/18/2009 |
| Union | 7/7/2009 |
| Mecklenburg | 7/8/2009 |
| Gaston | 7/9/2009 |
| Haywood | 7/28/2009 |
| Wilkes | 7/29/2009 |
| Rowan Salisbury | 7/30/2009 |
| Cumberland | 8/4/2009 |
| Bladen | 8/5/2009 |
| Brunswick | 8/6/2009 |
| Chowan | 9/15/2009 |
| Nash | 9/16/2009 |
| Wake | 9/17/2009 |
| Durham | 9/18/2009 |
| Iredell | 9/22/2009 |
| Forsyth | 9/23/2009 |
| | |