At the 2008 induction ceremonies of the North Carolina Transportation Hall of Fame, Norfleet Gardner, retired state director of pupil transportation received the Perley A. Thomas Award, sponsored by Thomas Built Buses
Mr. Norfleet Gardner was active in North Carolina public education from 1956
to 1996. He started as a history teacher at Coats High School in
Harnett County, and also served as the school's assistant principal in
charge of school bus transportation. He also taught driver education
during the summer months.
He was appointed as Driver's Education Coordinator for the Harnett
County School System in 1970, but after three years was hired by the
state Department of Public Instruction's Division of Pupil
Transportation, as an Area Coordinator. In 1983, he was promoted to the
division's Assistant Director's position, and director in 1984, the
position he held until his retirement 12 years later. During his tenure
as division director, North Carolina successfully dismantled its student
bus driver force in favor of an all-adult driver force. He also
automated the state's 100 school bus garages with an on-line vehicle
fleet management system. He has been an active member of the National
Pupil Transportation Association, the North Carolina Pupil
Transportation Association, and the Southeastern States Pupil
Transportation Conference.
John O'Leary, President of Thomas Built Buses presented the award, closing with the following comments:
"Throughout his career, he has been a champion for pupil and school bus
safety. Therefore it gives me great pleasure to present the 2008 Perley
A. Thomas Award for Excellence in Pupil Transportation to B. Norfleet
Gardner."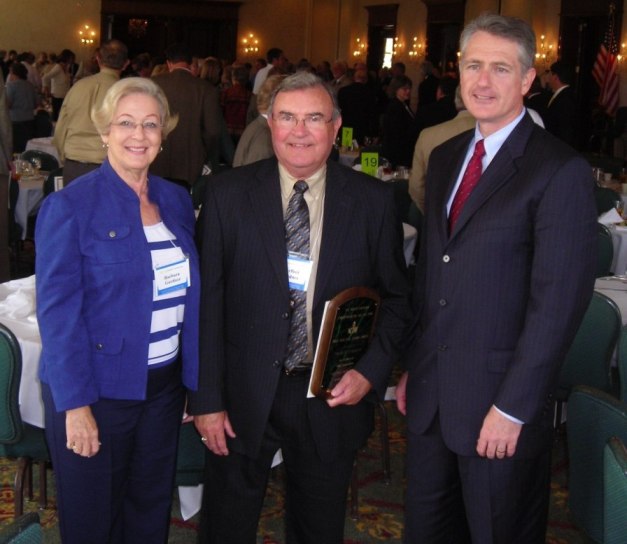 Norfleet Gardner and his wife of 50 years, Barbara, pictured with John O'Leary following the awards ceremony
_____________________________________________________________________________________
Former recipients of the Perley A. Thomas Award include:
2005: Pupil Transportation Group, ITRE, in recognition of its efforts, commitments and accomplishments in pupil transportation management, operations and technology.
2006: Jim Moen, Guilford County, in recognition of his considerable efforts and accomplishments in pupil transportation for Guilford County Schools and statewide
2007: First Sgt. Phil Wadsworth, NC Highway Patrol, in recognition of his support for school bus safety in North Carolina.