Buncombe County Schools will never forget the ultimate sacrifice that Sgt. Kenneth Dale Hess made on April 11, 2006, of giving his life while serving his country in Iraq. He was a member of the 4th Squadron, 14th Cavalry Regiment, 172nd Stryker Brigade Combat Team, Fort Wainwright, Alaska.
Sgt. Hess was born in Asheville on April 27th, 1979 and attended A.C. Reynolds High School. His father is Terry Hess, Senior Supervisor, Buncombe County Schools' Transportation Department.

The Transportation Department was the only Buncombe County Schools' facility without a flag pole until this past fall. However, the death of Sgt. Hess, while serving his country, made the Transportation Department staff keenly aware of the need to display their patriotism for our country. With the opening of the new Maintenance Department facility and the closure of the old facility on Craven Street, the flag pole at the old facility was moved to the Transportation Department.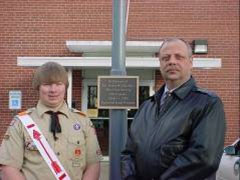 (L-R) Russell Brown Jr. and Terry Hess

However, a flag pole in itself was not enough. Russell Brown Jr., Boy Scout, Troop 15, SoQua District, Daniel Boone Council, and a junior at North Buncombe High School, discovered that the Transportation Department wanted to have a planter around the flag pole, and a plaque in remembrance of Sgt. Hess. Therefore, Russell volunteered to build the planter as his Eagle Scout leadership service project and provide a plaque. Russell and the other scouts in Troop 15 constructed a memorial landscape that consists of a nine-foot-diameter brick planter filled with shrubbery and flower bulbs around the flag pole, which is a beautiful addition to the Transportation Department facility.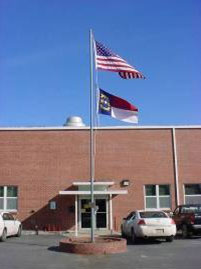 The flag pole, plaque, and landscape were recently dedicated in memory of Sgt.
Hess. Born April 27, 1979. Died April 11, 2006

As of the posting of this article, 4,422 service men and women have given their lives in the Middle East conflicts. http://projects.washingtonpost.com/fallen/ is a link that gives a picture and brief information of each soldier who has fallen since 1991.