2007 Best School Bus Inspector Contest/2007 Statewide inspection banners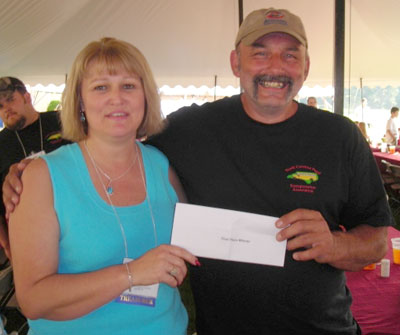 Cynthia Phillips presents $500 to Danny Reed, the 2007 Best Bus Inspector.
Beaufort County is the employer of this year's Best School Bus Inspector contest winner. Danny Reed, in his third competition, took the top honor at the Asheville Civic Center on June 20, 2007. He and 11 other finalists inspected three different buses that were specially "set up" by DPI consultants Charles Ball, James Hawkins, Craig Warren and Randy Henson. Each bus had 10 defects to be identified in order to score points. The contestants also had to take a 40 question written test in order to qualify for the finals.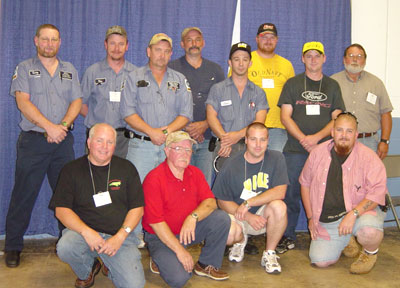 The top 12 await their turn to inspect the buses at the Asheville Civic Center.
Danny has been a school bus technician for the past seven years. His boss, Jerry Wynne, is not surprised that Danny won. "He is a dedicated employee and places the safety of the children who ride the buses he services as his top priority".
When the judges tallied up the test scores after the competition, 1st and 2nd were tied. The winner was decided by time. Out of the possible 30 minutes given for the bus inspections, Danny finished in 28 minutes. Two minutes ahead of 2nd place. The winner automatically qualifies to represent North Carolina in the National Best Bus Inspector competition.
Originally Danny had vacation/anniversary plans scheduled during the week of the national competition on August 2-3. "I was able to bribe the "big boss" Sally, my loving wife of 27 years, with my $500 winnings from the state competition so that I can attend and hopefully WIN the nationals" says Danny.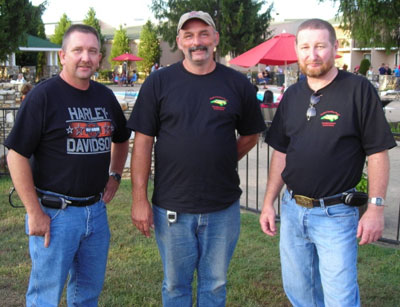 Rick, Danny and Terry (L-R) take a moment for a picture during the Wednesday evening dinner in Asheville.
Rick Jennings from Wilkes County, winner for the past two years, was elated for Danny. "I knew that he (Danny) was the man to beat based on my experience with him over the past two years. He takes the competition serious and knows his stuff" says Rick.
Rick says he was happy to place 2nd this year and hopes that he will get to accompany Danny to compete in the national Technician Diagnostic competition in Peoria, Illinois August 2-3 where he can continue the tradition of keeping a winner from Wilkes County at the National level. Over the 3-year history of the National competition, one of the top three finishers has always been from the Wilkes County school bus garage.
Rounding out 3rd place was Terry Barlow from Wilkes County. He is no stranger to this competition being that he won 1st in 2004.

There is a touching side story to this year's event… Danny's mother is in a nursing home in Peoria, Illinois and has not had a chance to visit her in the past year since she moved in. He is hoping to sneak away for a few hours during his trip to the national competition and surprise her with a visit.

The rest of the finalists included:

Jason Barnes - Johnston
Jonathan Coulter - Lincoln
James Haas - Onslow
Randy King - Wilson
Marc Lail - Rutherford
Larry Moore - Johnston
Lebo Raynor - Johnston
Tim Speer - Yadkin
Ralph Trango - Wake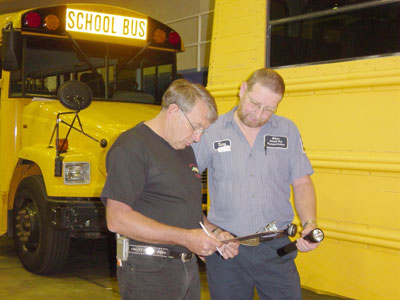 Contestants had to log each defect found. Here shown is Charles Ball and Terry Barlow checking over his list.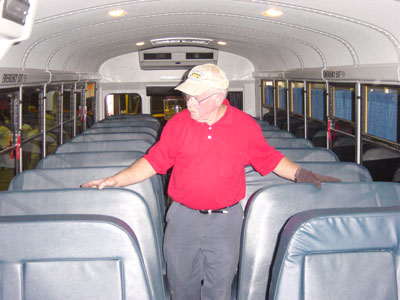 Somewhere an unknown defect awaits to be found by Lebo Raynor from Johnston County.
Congratulations to all 37 technicians who took place in the 2007 event. NCPTA & DPI appreciates the participation and hopes that many more will be back to try again in Winston-Salem in 2008.

DPI annual inspection banner winners:

The best inspection banners were handed out at the NCPTA opening session in Asheville on August 19, 2007.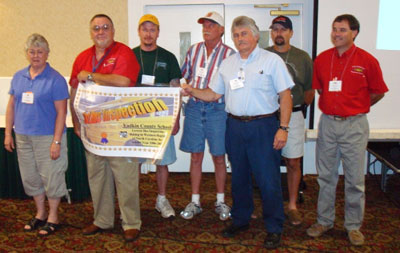 Western-Yadkin
Central-Davie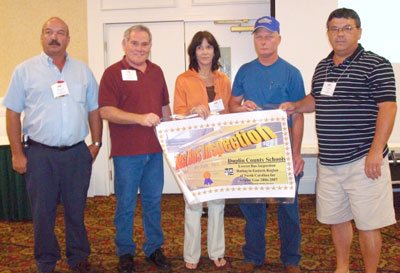 Eastern-Duplin
Congratulations goes out to all the employees in these counties.