Buster Goes to the State Fair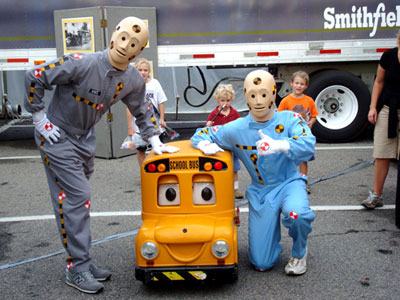 Each year around the month of September Derek Graham knows his routine. During this period, he lines up dozens of volunteers for the School Bus Safety exhibit, which is located in "Safety City" at the NC State Fair in Raleigh. For many years NCDPI, Wake County Schools and numerous LEA transportation department employees and family members have faithfully facilitated the safety exhibit, featuring Buster the Bus. The miniature robotic school bus comes alive and delights thousands of children and adults who visit the exhibit. 
Buster, who is the star attraction, costs approximately $8,000. This marvelous robotic bus was originally purchased about seven years ago in order to promote school bus safety to elementary school children around the state. "Buster the talking bus has a magical way with children by nature of its design and high pitched vocals" states Dr. John Leak, a DPI training consultant. "Kids gravitate towards the non-threatening eye level robot and talk to it like it is a human". In the hands of a skilled operator, Buster does take on human-like characteristics much to the amazement of kids and adults who try to figure out how this little bus is speaking to them.
Along with the robot bus, this year's booth also included a 2008 Thomas C2 bus on display. Almost every adult who walked through the bus made the same type of comments… "Why didn't they have buses this nice when I rode?" stated William Hatley, a 40-something-year-old fair visitor from Guilford County. "Where are the seatbelts?" asked Julie Reed from Yancey County. "Does it use BioDiesel?" asked a fair goer from Greene Co. And the most popular question of all, "How much does a new bus cost?" The volunteers answered all of the questions as best they could along with passing out various pamphlets discussing school bus safety & stop laws.
If you have not ever joined in on the fun at the state fair school bus safety booth, next year could be your year. Contact Derek Graham to be placed on the list of volunteers.
Buster is a KID magnet !
When Buster speaks, everyone listens.
Cynthia Phillips is just one of the many voices of Buster who volunteered for fair duty.
The TV in the school bus was a point of fascination for many kids who watched the video about bus safety.

Hopefully in 2019 this young man can fulfill his dream of driving a school bus.
A special thanks goes out to the over volunteers who devoted their time to the safety booth at the 2007 NC state fair representing:
Asheboro City * Brunswick County * Chatham County * Cumberland County * DMV SBTSS * DPI * Durham County * Greene County * ITRE * Johnston County * Lenoir County * Moore * Pender County * Pitt County * Randolph County * Wake County * Wayne County * Wilson County