As part of a national awareness and appreciation campaign titled "Love the Bus," school bus drivers for Jesse Wharton Elementary School, representing all Guilford County Schools' bus drivers, were honored at a Valentine's Day ceremony. Thomas Built Buses brought a new C2 school bus which will be coming soon to Guilford County Schools. The national campaign of the American School Bus Council is designed to show appreciation to the hundreds of thousands of men and women who safely drive more than 25 million children to and from school each day. Other events were held in Chicago, Philadelphia, Dallas and other U.S. cities.
Students paid tribute to their bus drivers by presenting them with Valentine's Day cards. They also had a chance to "Love the Bus" by writing their names on magnetic lips and placing the magnets on the side of the bus.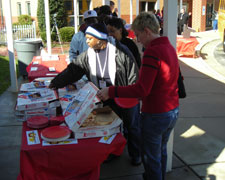 Bus drivers were provided with as much Domino's pizza as they could eat, and shared a celebratory LOVE THE BUS cake. Ms. Valerie Bridges, principal of Jesse Wharton, presented each driver with a box of valentine chocolates in appreciation of the dedicated service they provide.
Jeff Harris, transportation director for Guilford County Schools, praised the Guilford County school bus driver. He recognized long time school bus driver Max Morton as a fine example of the dedication and reliability that all school bus drivers strive for. As the first school employee that these students see in the morning and the last one that they see in the afternoon, Harris called these drivers among the most important in the entire educational process in Guilford County.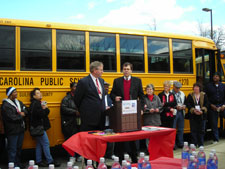 Ken Hedgecock described the American School Bus Council (www.americanschoolbuscouncil.org) and emphasized the safety of the school bus transportation system in the United States. Derek Graham relayed the ASBC's affirmation of the National Transportation Safety Board's recommendation that school bus drivers should not use cell phones while operating a school bus. The ASBC went a step further and recommended that cell phones and other similar devices also should not be operated while the driver is in the process of picking up or discharging students. Hedgecock, as vice-president of Thomas Built buses and Graham, as president of NASDPTS, serve as members of the ASBC.
About Love The Bus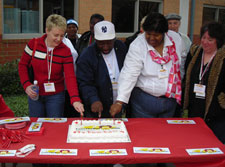 "Love The Bus" is a national awareness program created by the American School Bus Council to celebrate the valuable role that school bus drivers play in keeping children safe. Throughout the country in February, the Council and its partners will join local school districts to honor school bus drivers and educate parents and children about school bus safety. Through the program, children can create Valentines for their drivers; teachers can incorporate school bus safety into their lesson plans; and students and parents can share stories about their favorite school bus drivers at the program's Web site, www.LoveTheBus.com. In Washington, members of Congress will tour a new, state-of-the-art school bus that includes the latest safety, security and environmental features, and speak with members of the school transportation industry about federal funding for school transportation. Even though school buses constitute the largest public transportation network in the United States, the federal government does not directly assist communities with funding for school transportation.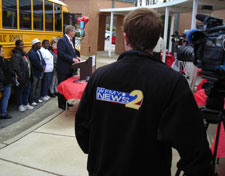 The American School Bus Council represents a unified voice of the school transportation industry – including public and private transportation providers, school bus manufacturers and state officials responsible for pupil transportation. The Council is committed to providing safe, effective, efficient and healthy transportation for the more than 25 million schoolchildren who ride more than 475,000 school buses each day. The Council's members include NAPT (National Association for Pupil Transportation), NASDPTS (National Association of State Directors of Pupil Transportation Services), NSTA (National School Transportation Association), Blue Bird Corp. of Fort Valley, Ga., IC Corporation of Warrenville, Ill., and Thomas Built Buses of High Point, N.C.
For more information, visit www.americanschoolbuscouncil.org.
View a video of the event (mpg, 10.5 MB)