The "Green" School Bus
As fuel prices continue to skyrocket, the Wake & Mecklenburg County School Systems will have two new plug-in hybrid electric school buses for the 2007-08 school year that could help offset the rising fuel costs while helping protect the environment.
The two school systems will become some of the first in the U.S. to operate the new hybrid school bus that potentially double fuel efficiency and reduce emissions by up to 90 percent.
"NC students will be among the first in the country to ride on a hybrid school bus," said Don Hayden, Associate Superintendent of the Wake County School District. "This is an exciting time for our school district as we strive to provide environmentally cleaner, more fuel efficient student transportation."
"We're excited to be one of the first school districts in the nation to receive the plug-in hybrid electric school bus," said Dr. Peter C. Gorman, superintendent of the Charlotte-Mecklenburg School District. "An environmentally cleaner, more efficient trip to and from school is a tremendous benefit for our students and our community."
The new bus is a result of a nationwide initiative called the Plug-In Hybrid Electric School Bus Project, led by Raleigh-based Advanced Energy, a non-profit corporation that initiated a buyer's consortium of school districts, state energy agencies and student transportation providers. Among the partners that helped Advanced Energy bring the bus to Raleigh include:
Progress Energy

Dominion North Carolina Power

N.C. Department of Administration - State Energy Office

N.C. Department of Environment and Natural Resources - Division of Air Quality

N.C. Department of Public Instruction

North Carolina's Electric Cooperatives
The initial power train for the hybrid school bus will couple an International® VT365 V8 diesel engine with the 25/80-kilowatt hybrid-electric power train, incorporating a transmission, batteries and an electric motor. The system is based on a parallel architecture, allowing the system to utilize both diesel and electric power in a highly efficient manner.
"IC Corporation's hybrid school bus revolutionizes the school bus industry," said Michael Cancelliere, vice president and general manager of IC Corporation. "Improving fuel efficiency and reducing emissions helps school districts and the environment. IC Corporation is committed to environmental leadership and delivering value to our customers."
Later this, year other school districts around the country will be receiving the remaining IC Corporation hybrid school buses awarded in Advanced Energy's bid - 19 total. The hybrid school buses are manufactured at IC Corporation's plant in Conway, Ark.
For more information on the hybrid school bus project see www.hybridschoolbus.org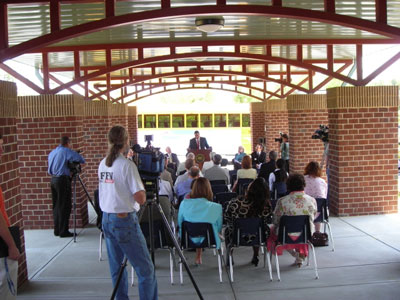 Both buses were introduced at well attended media events in Raleigh & Charlotte.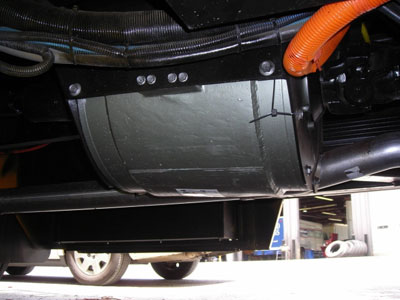 The in-line electric motor weighs in at 600 lbs. and produces approximately 50 HP and 1000 lbs. of torque. It will assist the diesel engine in taking off from dead stops in order to reduce fuel consumption.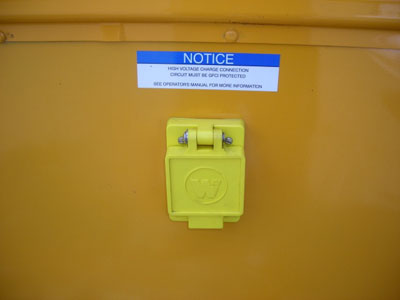 The vehicle will be plugged in each evening to assist charging the 1600 lb. lithium-ion battery storage units. Many safe guards are built in the system to prevent accidental electrocution of bus drivers, children and school bus technicians.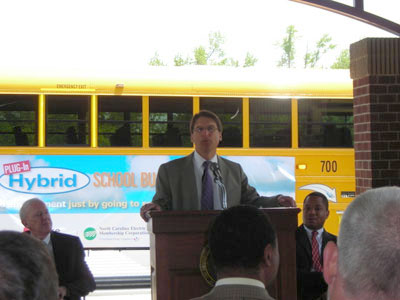 Pat McCorey, Mayor of Charlotte, was one of the many dignitaries who spoke to the crowd at the event in Charlotte held at Highland Creek Elementary School.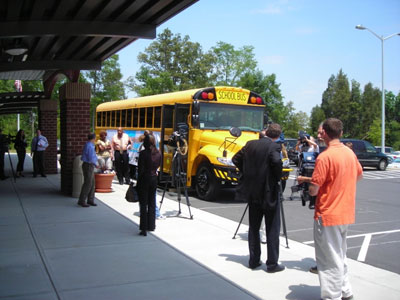 The Charlotte press was out in full force and blitzed the 6:00 & 11:00 news with coverage of the Hybrid bus.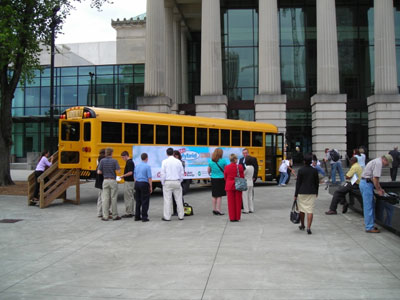 The Raleigh press conference was held at the Progress Energy Center for performing Arts and was well attended by local officials, Progress Energy representatives and Advanced Energy personnel.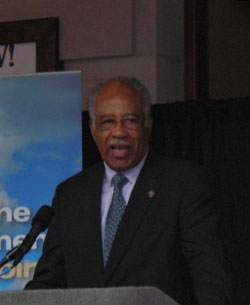 State Board of Education Chairman and former state Senator Howard Lee addresses the crowd in Raleigh.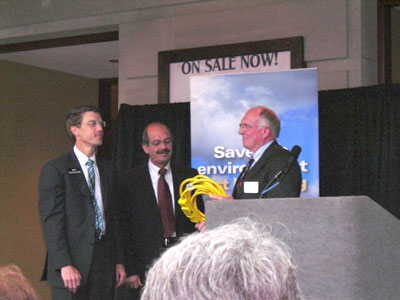 The hybrid bus's power cord is ceremoniously passed to Wake Co. Schools Associate Superintendent, Don Hayden.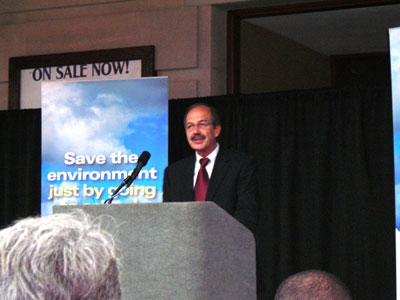 Larry McEntire from IC Corporation speaks to the crowd at the Raleigh event about the benefits of hybrid technology.