The rest of the country is discovering what we in North Carolina know all along…That Derek Graham is an exceptional leader in the School Bus Transportation industry.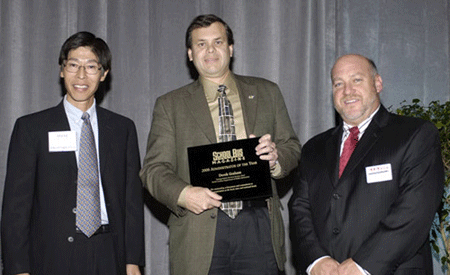 Derek receives award from Editor of SBF Magazine and President of NAPT.
Since 1995 when he took over North Carolina's top transportation spot, he has been largely responsible for implementing ideas that have brought North Carolina to the forefront of the school bus industry. In November 2006, Derek was awarded the top honor by SBF Magazine at NAPT in Kansas City in front of an audience of his peers from across the country. Derek very humbly accepts the honor and is quick to point out that without great staff support, he would not be in the position that he is in. If the SBF magazine honor is not enough, he is also the current NASDPTS president. The National Association of State Directors of Pupil Transportation Services represents all 50 states and several U.S. territories. The purpose of the association is to provide leadership, assistance and motivation to the Nation's school transportation and industry with the goal of providing safe, efficient, economical and high-quality transportation to school children on their trips to and from school and school-related activities. Derek is serving a two-year term in this office.
Articles about Derek are in current and past issues of School Bus Fleet and School Transportation News. Read all about him!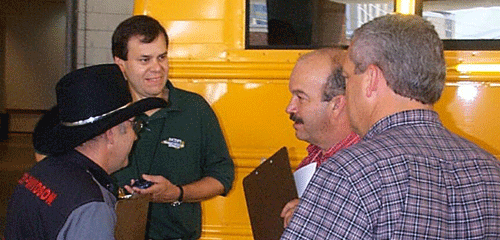 The "Boss man" consults with his team at a pilot inspection.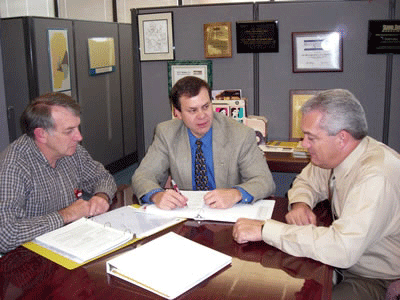 Derek always listens carefully to the advice and opinions of his co-workers.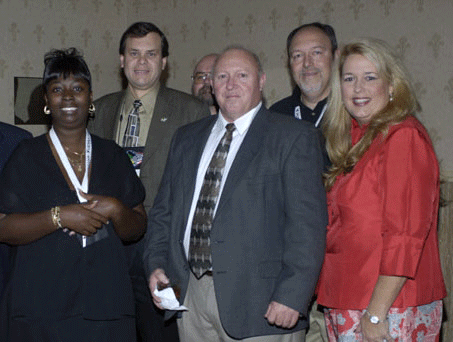 Derek is always quick to give credit where credit is due. Here he is shown with Zita Ferebee (far left), bus driver from Perquimans County who received heroism award at NAPT for removing children from a burning bus.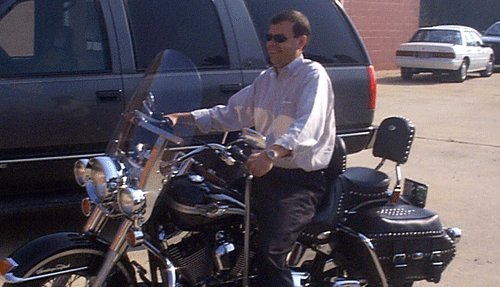 Derek also has a wild side!