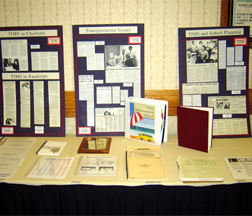 TIMS users and other pupil transportation staff gathered in Greensboro on March 20-22 for the 2006 Tymposium. This meeting marked the 20th anniversary of the first TIMS software installation in North Carolina under a state-wide license agreement with Education Logistics. The event in Greensboro combined a celebration of that landmark with some of the most intense TIMS education and training sessions ever offered in North Carolina.
Hien Nguyen, the founder and president of Education Logistics (Edulog) was present and spoke during the general session. He outlined the history of the long relationship between his company and NC and gave his perspective on the future of pupil transportation software industry.
TIMS through the years; a display of archived materials.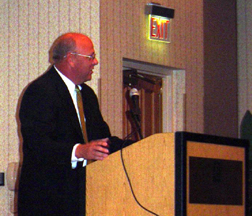 Tom Runkle, who currently works in the state office of strategic initiatives, was also present. Mr. Runkle originally negotiated the license agreement with Edulog. He emphasized the importance of the
people who were involved making the difference in the overall success of the project.
Tom Mullins and Joe Odell from Edulog showed the integrated GPS software from Edulog called Edutracker, the web query product, and previewed an integration of Edulog and GPS software that will allow data updates to flow from GPS to Edulog.
Phil Mullen, recently retired as Executive Director of Transportation for Cumberland County Schools, was one of two original TIMS Coordinators beginning in 1886.
In-depth sessions were presented on boundary planning, reporting, and operations. These sessions were presented by Edulog staff members who are experts in these areas.
| | |
| --- | --- |
| John introduces EDULOG staff as the conference begins. | Just waiting for class to begin. |