Once again a familiar face emerged as the best bus inspector in NC. Rick Jennings from Wilkes County did it again. As the winner of last year's NAPT National Best Bus Inspector Contest, he did have a slight advantage over the field of 31 technicians who entered this year at Sunset Beach. Johnston County provided the 2nd & 3rd place winners. Jason Barnes & Larry Moore each gave Rick a run for his money. Every man who entered gave it their best shot and can all be considered winners for the extra effort that it takes to compete in the inspection competition.
The hands-on competition was held at Brunswick County Transportation department on a very muggy Wednesday afternoon. The garage staff graciously provided a super clean environment for the event to be held. Thanks to Mr. Don McCurley & Mr. Bobby Taylor for being great hosts. Also a thank-you goes out to Chris McClung from Graham Co. for being a replacement judge for Derek who was on a church-related mission trip to Alaska.
Rick received $500.00 from NCPTA and a trip to the National competition held at the Blue Bird Corporation on August 3 & 4, 2006 in Fort Valley, GA. Jason received $300.00 from NCPTA and Larry received $200.00.
Jason & Larry from Johnston Co.- 2nd & 3rd. place. Jason will represent NC in the National Technician Competition in August.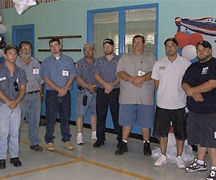 The top nine finalists are:
Beaufort-Danny Reed
Greene-Chris Pollack
Gates- Carl Cox
Pitt- Richard Roebuck
Pitt- Bill Reaves
Rutherford- Brian McClung
Rutherford- Derek Johnson
Wilkes- Terry Barlow
Yadkin- Tim Speer
More photos & Annual LEA Transportation Department Inspections. >