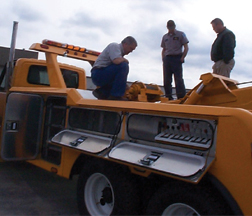 On March 6th the first state replacement wrecker was delivered to Catawba County Schools; Rowan County received theirs on March 10th. This year's wrecker is quite different, since a vehicle had to be specified to bring us in line with the current axle weight laws. Heavy duty school bus chassis, engines and larger capacity bus bodies have significantly increased the weight of newer buses. DPI Transportation Consultant Craig Warren weighed some new buses with existing wreckers and determined that a tandem axle was needed for new wreckers.
The resulting new wrecker body is Century model # 4024T2 with an aluminized body that also reduces the weight of the wrecker. It should be more resistant to rust than the traditional steel bodies we have previously purchased. This year the wrecker was bid as a total truck in an attempt to get better pricing. International Truck Corporation submitted the lowest bid with the 4400 series chassis and the Century body. The total cost of $112,766.00 was nearly $8,000.00 lower than the next bid.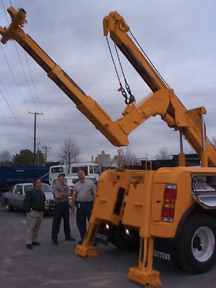 The chassis is powered by a DT466E diesel engine rated at 300 horse power with a ten speed road ranger transmission and a tandem rear axle. The tandem axle allows us to increase the rear axle weight limit from 20,000lbs to 38,000 lbs which should handle any school bus purchased for the state fleet.
The boom and under reach are integrated, allowing for easier operation and a weight reduction. The body has several new features to help the wrecker operator - lighted compartments, bin-mounted controls, partial cab controls and remote set of lanyard controls. The cab has an air ride driver seat, AM/FM radio and air conditioning.
This wrecker should meet our needs for many years.
The following counties are contributing funding for the boom to receive a replacement wrecker:
Brunswick County
Catawba County
Cumberland County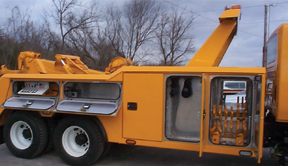 Durham County
Iredell County
Johnston County
Rowan County
Wayne County
Wake County
Capital Outlay Wrecker: Chapel Hill/Carrboro City