Third graders in North Carolina public schools have a new homegrown superhero on their side to help them stay safe on and around school buses.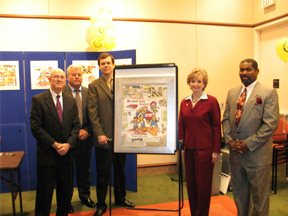 Photo: STOP KAT KICKOFF
(left to right) Ben Matthews, Director, School Support; Darrell Jernigan, director GHSP; Derek Graham, Section Chief, Transportation Services; Dr. June Atkinson, State Superintendent; Frank Jones, Jr., Illustrator
"Stop-Kat and the Do-Right Crew," the brain child of Onslow County high school teacher Frank Jones Jr., is featured in a new reading and activity booklet produced by the Department of Public Instruction and sponsored by the Governor's Highway Safety Program. Fifty thousand copies of the tabloid-size activity booklets were printed and are being sent to local school districts at their request. Local school districts can receive the tabloid by providing information about how their third grade teachers and third graders would receive school bus safety training along with the activity booklets. To date, more than 31,000 copies have been shipped to local school districts. Stop-Kat and the Do-Right Crew feature a superhero cat and a group of children who help their peers do the right, safe thing on and off the school bus.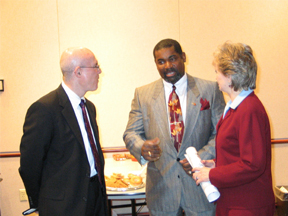 Photos: Dr. June Atkinson and Ben Matthews, receive a signed copy of the STOP KAT activity book from Frank Jones, Jr.

The activity booklet includes information about avoiding unsafe walking areas and dangerous spaces between buses, boarding and unboarding the school buses safely and dealing with bullying on the school bus. Aimed at third grade students, the activity booklet is presented in a comic book format and includes fill-in-the-blanks, word "unscrambles"and other activities along with tips to reinforce safety on school buses. State Superintendent June Atkinson received a signed copy of the activity booklet from Jones at a distribution kick-off earlier this week.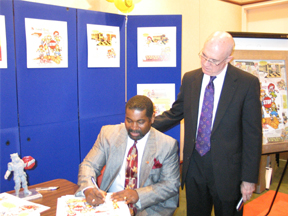 "Stop-Kat provides a fun way for younger students to remember the safety tips and rules that educators hope they will learn," Atkinson said. "I am grateful to the Governor's Highway Safety Program for supporting this project. I want to say a special thank you to Frank Jones for offering Stop-Kat and the Do-Right Crew to the third graders of North Carolina."
Jones, a teacher at Swansboro High School, is a native of Newark, New Jersey, and a former Marine. He also is a cartoonist who has created several publications to help students deal with safety, bullying and similar issues. At Swansboro High School, Jones has initiated an architectural and technical drafting and design program.
Photos: Frank Jones, Jr., signs a copy of the STOP KAT Activity Book for Stacie Cruz, grants manager for GHSP, and Darrell Jernigan, director of GHSP.