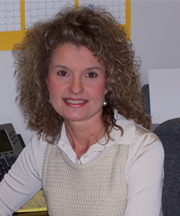 Every garage loves to see used school buses sold and moved off the premises. Every garage REALLY loves it when several are sold at a time! Last month in Durham, Tammy Knudsen (photo right), Administrative Assistant, received a call from an individual inquiring about buying several used buses. Tammy, who was aware of the BULK SALE DISCOUNT, talked him into purchasing 30 buses for a total sale of $45,150. Way to go Tammy !!!!
Currently NC has an inventory of over 1000 used buses to sell. They range in all models, sizes and conditions. DPI relies on the sale of used School Buses to fund new Service Trucks, Fuel Trucks and Wreckers since there is no allowance in the state budget for these support vehicles.
Since July 1, 2005, over $1,000,000 has been generated for the replacement truck fund from the sale of used school buses.
If someone is interested in purchasing numerous used school buses, they should be directed to Craig Warren at DPI, who is in charge of BULK SALES. The "list price" for each bus is listed at Used School Buses for Sale. Here is the bulk sale discount:
2-9 buses 25% off list prices
10-19 buses 33 % off list prices
20-29 buses 40 % off list prices
30+ buses 50% off list price