Rick Jennings from Wilkes County Schools Transportation Department went to Georgia, toured the Blue Bird bus factory, ate dinner under the wing of an F-15 fighter jet AND participated in the "America's Best School Bus Technician and Inspector's Competition". Rick finished 1st at the state level for the past 2 years and was the 2005 national champion bus inspector. He really wanted to repeat his performance from '05 but knew from last years experience how intense & focused the other competitors would be. He said he was "very happy to have placed 3rd knowing the quality of his competition".
Fourteen states sent their best to Fort Valley Georgia, home of Blue Bird Bus Corporation, one of the major sponsors of the event. The contest is staged by NAPT (National Association for Pupil Transportation) each year to encourage on-going training and development of the nation's school bus technicians & inspectors.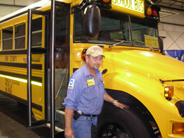 The participants had to take a written test and inspect three school buses that were rigged with numerous defects and safety problems. This year the event used Blue Bird school buses which may have been to Rick's disadvantage since it is the first time he had ever actually inspected a Blue Bird bus. He said "basically they are just like school buses that we are accustomed to seeing, but there are a few differences, especially on the inside".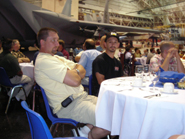 Rick and Jason enjoy a feast.

Jason Barnes from Johnston Co. who finished 2nd at the 2006 state level competition, represented NC well in the technician competition. The technicians had to diagnose and repair a problem on a specially prepared school bus. Jason also had to deal with the unfamiliarity with Blue Bird buses as he worked his way through the contest. He said he "just wanted to do his best and was very happy to be here". He said he will strive to go back to the national competition next year.
All of the contestants and observers were given a tour of the 1,000,000 sq. foot Blue Bird bus factory during operating hours. The one mile long assembly line was quite impressive and the quality of workmanship was evident to all who toured. The evening after the competition, the competitors and guests were taken to nearby Robbins Air Force base and were treated to a gourmet meal in a huge room which housed an F-15 jet. "Eating Prime Rib under the wing of a fighter jet is something you just don't do everyday" commented DPI Consultant Randy Henson who went along as an observer. "Hopefully we can adjust the state competition to be more in line with the nationals to better prepare everyone we send"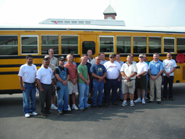 says Henson. NC bus inspectors have placed 3rd or better 3 years in a row.
Group photo of the best inspectors and technicians.
Rick & Jason both encourage all technicians in NC to participate at the state competition next year in Asheville. "Being able to compare notes and job roles with school bus people across the country is the best part of going to these events" says Rick. "The information that I bring back to NC will help me do my job even better"